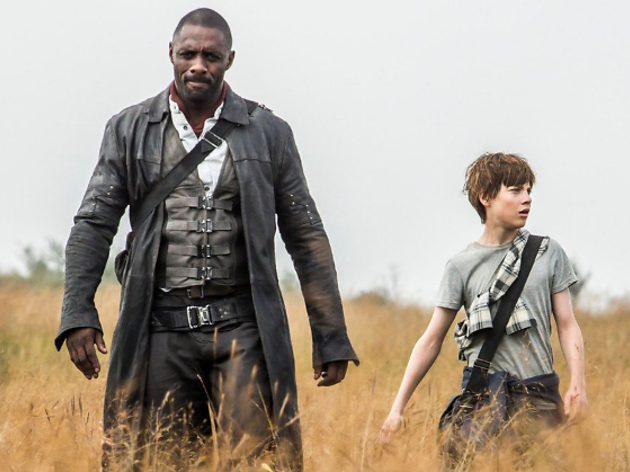 Time Out says
Stephen King's beloved fantasy series is reduced to a generic, less-than-magical chase movie.
With his eight-book Dark Tower series, Stephen King created his own Lord of the Rings: an epic and sprawling dark-fantasy saga that seemed to confound condensation into a single feature film. That suspicion is now confirmed by the weak supernatural stew that emerges from a long and tortured development, resulting in a movie that eliminates much of the author's imaginative mythmaking. Onscreen, The Dark Tower serves up a generic, half-baked scenario no different from a slew of better-known YA properties in which young, wide-eyed protagonists discover their connections to a hidden fantastical world.
The rich narrative tapestry King wove over the course of his novels has been reduced to a plot (credited to four screenwriters, including director Nikolaj Arcel) that could have been written on a napkin over lunch. Jake Chambers (Tom Taylor) is a creative 11-year-old New Yorker who's been doing drawings of his recurring visions of a parallel universe in which the gunslinger Roland (Idris Elba) pursues a demonic, black-clad sorcerer incongruously named Walter (Matthew McConaughey). Once Jake actually finds his way into Roland's realm, the gunslinger reluctantly takes the boy under his wing and they travel through assorted alternate dimensions, while Walter pursues them because Jake is the key to a vague apocalyptic scheme.
Attempts by Elba and McConaughey to, respectively, lend gravity and menace are choked off by their roles' simplistic characterizations and, in Elba's case, some very awkward fish-out-of-water gags when Roland hits Manhattan. The film is not poorly made: Its production values are suitably lush and the score by Tom Holkenborg (a.k.a. Junkie XL) is appropriately dramatic. But any fan of King's novels will be distressed at the way his material has been blandified and sanded down. Even if you're unfamiliar with those adventures, you'll still find much of The Dark Tower awfully familiar—when you're not being thrown off by the haphazard storytelling and its malleable rules. Don't worry, though. One day, surely, a filmmaker will try again.
Details
Release details
Rated:
PG-13
Release date:
Friday August 4 2017
Duration:
95 mins
Cast and crew
Director:
Nikolaj Arcel
Cast:
Idris Elba
Matthew McConaughey
Abbey Lee
Tom Taylor

Users say