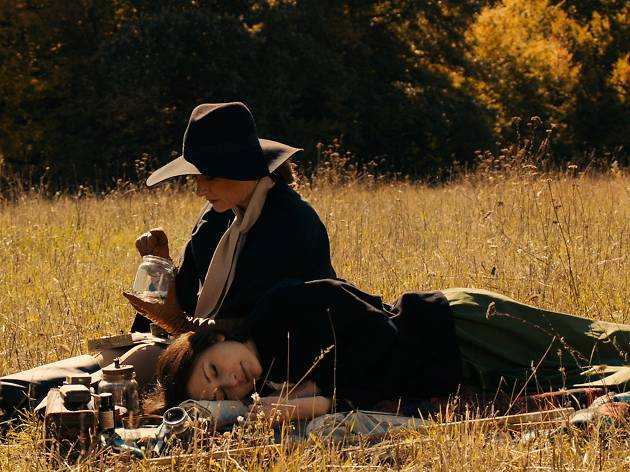 Britain's Peter Strickland is a star student of '70s Eurotrash: He loves screamy Italian giallos and the kind of soft-focus lesbian cuddling that titillated weirdos on 42nd Street. To judge from his films, though, he's a secret softie: Berberian Sound Studio, his 2012 breakthrough, largely took place in an editing suite, in which a timid engineer (Toby Jones), laboring on a witch movie, has a sad nervous breakdown. The film is thrilling for us Dario Argento fans peeking behind the curtain, but you leave thinking: poor guy.
The writer-director's absorbing latest, The Duke of Burgundy, has, in fact, nothing to do with wine. It's a sadomasochistic passion play between two gorgeous females (Sidse Babett Knudsen and Chiara D'Anna), shot in the lushly naughty style made popular by The Lickerish Quartet's Radley Metzger. Yet the longer you watch these two enact their routinized seductions—their repeated game has them taking on roles of a persecuted housekeeper and a haughty homeowner—the more you realize they've reached the end of the affair. The magic is gone. One of them starts showing up in the drawing room wearing dowdy pajamas instead of lingerie. A "safe word" gets overused to the point of mood-killing. They bicker, even as they head to the bathroom to perform an indignity too awful to describe here.
There's something slightly depressing about Strickland's idea, taking the most outré genre and infusing it with banal middle-age anxieties. Burgundy isn't really for fans of softcore naughtiness, so much as their parents. Regardless, you get the sense that if Strickland had set his movie on some suburban couch in Brooklyn, it would work just as well. He's sensitive to the creep of cooling ardor; the film has a traditional appeal that's wholly separate from its surface.
One should mention the butterflies: Strickland lets the bugs fly in a borderline-experimental sequence that's a direct quote of Stan Brakhage's "Mothlight." Clearly, he's a filmmaker who's too grown-up for the kinds of movies he obviously worships. It may be that his conventionality is a way forward, even when it robs us of the ruder pleasures we've forgotten to mourn.
Follow Joshua Rothkopf on Twitter: @joshrothkopf
Release details
Rated:
N/R
Release date:
Friday January 23 2015
Duration:
101 mins
Cast and crew
Director:
Peter Strickland
Screenwriter:
Peter Strickland
Cast:
Sidse Babett Knudsen
Chiara D'Anna
Monica Swinn