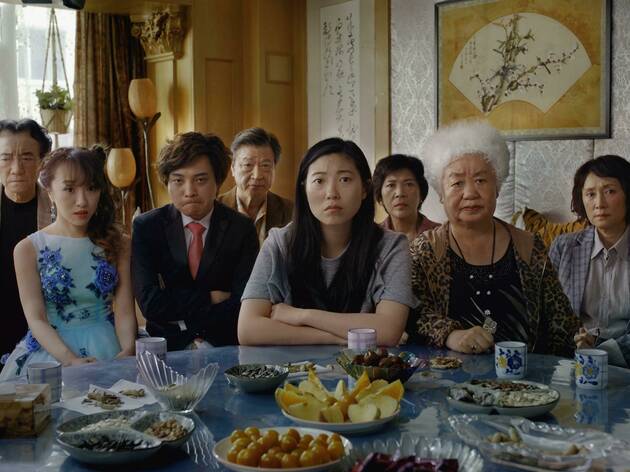 Awkwafina takes the next step in an exuberant comedy-drama about a Chinese family facing bad news.
Bittersweet and maturely witty, writer-director Lulu Wang's Chinese-American family comedy The Farewell beats with an immigrant's split heart. Featuring a thoughtful, star-making dramatic turn from Crazy Rich Asians scene-stealer Awkwafina, Wang's autobiographical story is "based on an actual lie," a title tells us—though not the kind of comforting white lie shared at the start. Walking through her adopted New York City on a long-distance call, unemployed writer Billi (Awkwafina) reassures her sweetly concerned granny back home in Changchun that she's wearing a hat. (She isn't.) In turn, "Nai Nai" (Shuzhen Zhou, adorably commanding) casually claims she's at her sister's house when actually she's at the hospital for a scan.
Now comes the real lie: In what appears to be commonplace practice in China, the extended family decides to withhold the grim cancer diagnosis from even Nai Nai herself. The clan comes together under the false pretext of a wedding between Billi's devastated cousin and his confused Japanese girlfriend, setting the stage for a gathering that's outwardly celebratory but secretly mournful (a mood beautifully supported by Alex Weston's cooed vocal-heavy score). Wang expertly plays these scenes to both comedic and heartbreaking effect, while the unruffled but bossy Nai Nai proudly throws together the traditional details of a speedy wedding, complete with a hilariously staged photo shoot and an over-the-top, colorful banquet hall. The amusingly uncomfortable event (reminiscent of a low-key version of the bogus party in Ang Lee's The Wedding Banquet) veers toward the melancholic in no time.
Nai Nai's blissful ignorance throughout faintly hints she might know more than everyone realizes—a subtle but welcome suggestion that never pays off in keeping with the true story. Still, Wang's perceptive film generously emphasizes small moments: the fading character of a modernizing Chinese town and authentic social nuances concerning the display of emotion, where professional criers are hired at funerals and "stupid child" is a genuine term of endearment. Most of all, Wang miraculously makes an unhurried, convincing case for what one doctor calls the "good lie." She helps us see things through the conflicted eyes of Billi, thanks in part to weighty conversations the character has with her Americanized parents (Diana Lin and Tzi Ma, both terrific). Delightfully embracing the specificity of Eastern culture, The Farewell reflects on collective considerations versus individualism, not unlike Crazy Rich Asians. It unearths the universality of complex familial love that defies borders and language barriers.
Release details
Cast and crew
Director:
Lulu Wang
Screenwriter:
Lulu Wang
Cast:
Awkwafina
Tzi Ma
Shuzhen Zhou