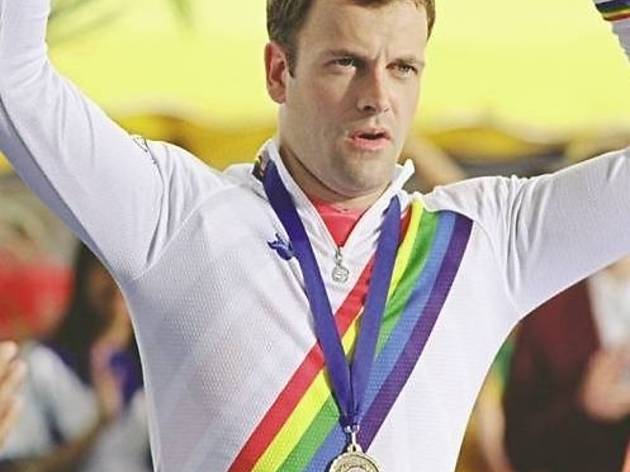 Working-class background? Check. Aging mentor with shattered dreams? Check. Biased sports federation with plans to thwart your protagonist? It's all there: You've got yourself an inspirational sports movie—based on a true story, of course. The most original thing about
The Flying Scotsman
is that its protagonist was successful from his first, unlikely foray into professional competition, which means the movie peaks in its first hour and has nowhere to go but down.
The athlete in question is Graeme Obree (Miller), a self-taught Scottish cyclist who developed a custom aerodynamic bike, pioneered an efficient hands-to-chest riding position and in 1993 broke the world one-hour distance record, only to be railroaded by a cycling federation—here embodied by a lone, sneering Bavarian bureaucrat—that didn't like the way he rode. (Indeed, at some point after the movie ends, the "Superman" position Obree later adopted was banned.)
He also suffered from depression, an issue the movie raises and then summarily drops, the better to add more cycling scenes. (Did he get over it? Does he still have it?) Emphasizing teamwork, Scotsman shows how Obree's wife (Fraser), manager (Boyd) and preacher friend (Cox) were crucial to his success. The most evocative scenes involve their skepticism at his bicycle designs, which include bearings built out of dryer parts. But the significance of his achievement is never clarified; to us, Obree's just another rider, trapped in the movie-uplift gearwork.

Release details
Cast and crew
Director:
Douglas Mackinnon
Screenwriter:
John Brown, Declan Hughes, Simon Rose
Cast:
Jonny Lee Miller
Laura Fraser
Billy Boyd
Brian Cox
Morven Christie
Niall Fulton
Steven Berkoff