The Great Beauty: movie review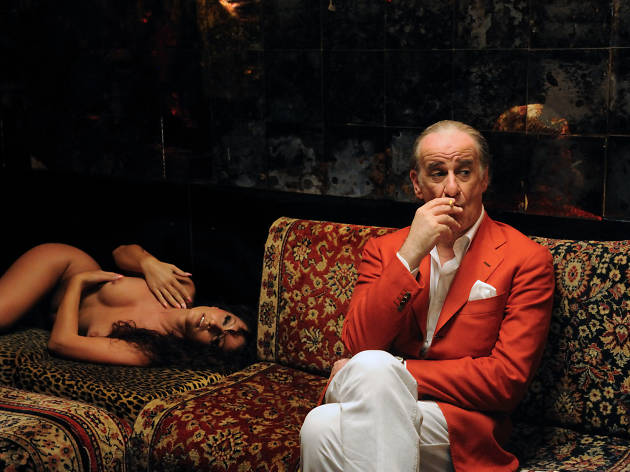 The cheesy Eurodisco is pumping, old men are lecherously pawing young models, and strippers listlessly dance on tabletops and in Deco glass booths. Then the crowd parts and, like Moses in a bespoke suit, he appears: Geppino "Jep" Gambardella (Toni Servillo), the elegant, elderly host of this debauchery. Once upon a time, he was a novelist whose first book made him a literary wunderkind; now, decades later, Jep files celebrity profiles for a glossy gossip rag and acts as Rome's éminence grise for the elitist set. An aura of moral rot hovers over the gentleman's every encounter, whether he's verbally tearing into a fellow high-class bottom-feeder, watching an elaborate Botoxing ceremony that resembles a Tony Robbins seminar or keeping company with a friend's grown daughter (Sabrina Ferilli). If Marcello Mastroianni's character from La Dolce Vita hadn't stepped off the sweet-life treadmill, this is exactly who he would have become.
That Fellini's film immediately comes to mind as you watch Paolo Sorrentino's satirical dig at the rich and famous is no coincidence; wildly uneven or not, the Italian director's work has been a bright spot in his nation's fading cinema, and he seems to be purposefully willing a return to yesteryear's golden age of grotesques and ennui. (Bring on the voluptuous pouting women, toadlike middle-aged men and little people.) But as in his past collaborations with the mighty Servillo—notably The Consequences of Love (2004) and Il Divo (2008), there's a chemistry at work here that lifts this above a filmmaker's wax-museum tour of his ancestry. The broader things get, the more world-weary grace the actor displays, showing viewers that yes, the jaded Jep does have one last ember of a soul burning beneath this modern Roman emperor's tailored suits and old-man physique; the minor notes Servillo plays beneath the major-chord bombast is nothing short of beautiful.
Flashbacks to Jep's "Rosebud" and a third-act attempt to titter toward transcendence via a Mother Teresa–like figure don't quite hit their marks, yet Sorrentino's portrait of an artist rising, phoenix-like, from the upper-crust ashes still feels like bold, first-class filmmaking. If he keeps producing works like this, the man may do the same for Italian cinema.
Follow David Fear on Twitter: @davidlfear
Release details
Cast and crew
Director:
Paolo Sorrentino
Screenwriter:
Paolo Sorrentino
Cast:
Serena Grandi
Vernon Dobtcheff
Sabrina Ferilli
Toni Servillo
Carlo Verdone