The Hobbit: The Desolation of Smaug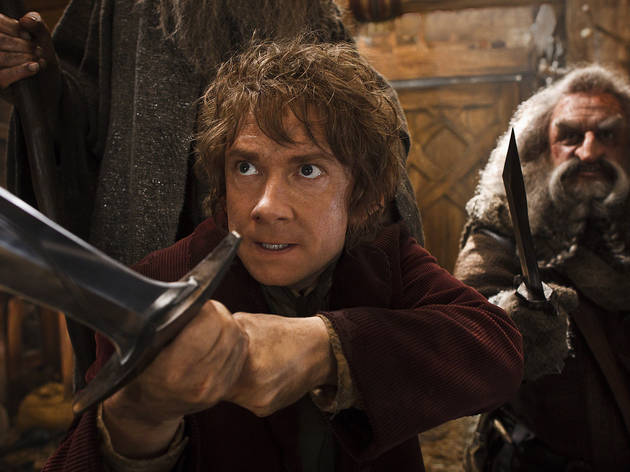 At this point, viewers surely know where they stand in relation to Peter Jackson's new trilogy—this reviewer is a fan of almost every big, bloated, bombastic moment. So it's guaranteed if you weren't enamored of the first Hobbit—adapted from J.R.R. Tolkien's slim children's novel, along with several of his Lord of the Rings appendices—it's unlikely you'll warm to the second, even though the pace has sped up considerably. (This time, the producers are also downplaying the surreally glossy high-frame-rate format.)
There's a brief flashback to the initial meeting of the gray wizard Gandalf (Ian McKellen) and the exiled dwarf king Thorin Oakenshield (Richard Armitage). Mostly, though, the movie sticks to the company of Thorin, his fellow dwarves and the resourceful hobbit Bilbo Baggins (Martin Freeman)—still carrying the invisibility-cloaking Ring of Power in his pocket—as they continue on their quest to reclaim the kingdom of Erebor from the vicious dragon Smaug (a motion-captured Benedict Cumberbatch).
Even in his scrappy early horror movies like Meet the Feebles and Dead Alive, Jackson tended toward excess, and The Desolation of Smaug shows him in a particularly overabundant mood, orchestrating all manner of chaos like a master conductor unleashing his fanboy id. Putting our heroes through their paces are a shape-shifting bear, the massive spiders of Mirkwood and an army of orcs under the control of a notable Rings antagonist. Returning archer elf Legolas (Orlando Bloom) and his fellow warrior Tauriel (Evangeline Lilly, Auto-Tuned into etherealness) provide multiple, imaginatively gory decapitations. There's even an extended set piece involving some barrels and a roaring river that's so giddily, gloriously executed, there's barely a moment to think about its alternative purpose as a theme-park-ride prototype.
Exhaustion has set in by the time Bilbo and his friends encounter Smaug around the two-hour mark, so it's a good thing that that's when Jackson goes full bore with the adrenalizing, digitally augmented braggadocio. In short, you want a fire-breathing dragon, you get a fire-breathing dragon. Rising from beneath an ocean of coins like a scaly mutant version of Scrooge McDuck, Smaug taunts and stalks his terrified prey around the cavernous ruins of Erebor in the film's lengthiest, most purely pleasurable action sequence. By the time the beast spreads his wings to full span, soaring skyward toward a vaguely Spielbergian moon, you're in the kind of breathless awe that so few current cinematic superproductions are able to provide, even as the cynical implications of what is inarguably a continents-spanning merchandising pitch nag at your brain stem.
Follow Keith Uhlich on Twitter: @keithuhlich
Release details
Cast and crew
Director:
Peter Jackson
Screenwriter:
Fran Walsh, Philippa Boyens
Cast:
Martin Freeman
Ian McKellen
Richard Armitage