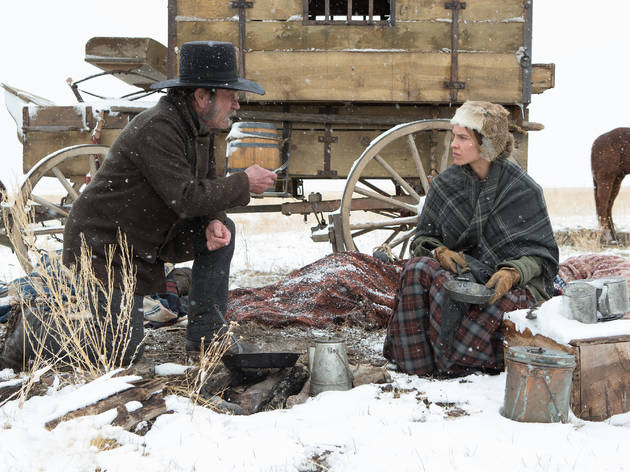 Time Out says
The West is a grim place in Tommy Lee Jones's ineffective 19th-century oater, especially for Mary Bee Cuddy (Hilary Swank), a plain-looking Nebraska spinster unlucky in love, if stalwart in spirit. She can hold her own (or so it seems) among the gruff and/or lightly condescending men of her small frontier town. But three other women (Grace Gummer, Miranda Otto, Sonja Richter) aren't so lucky, their minds succumbing to the harsh realities of life on the American verge. Cuddy volunteers to take the mentally ill trio east to Iowa where they can be sent home to their families. She could use some help, though, and fate fortunately puts disgraced soldier and claim jumper George Briggs (Tommy Lee Jones) in her path.
Thus begins a testy, unlikely friendship, one you feel you've seen multiple times before despite the best efforts of all involved. Jones, directing his second feature since 2005's The Three Burials of Melquiades Estrada, has an eye for sprawling Western landscapes, and cinematographer Rodrigo Prieto gives the images the feel of burned-out daguerreotypes. Yet the script (which Jones, Kieran Fitzgerald and Wesley Oliver adapted from Glendon Swarthout's 1988 novel) shifts uneasily between tragedy and comedy: A woman throws her baby into the pit of an outhouse one moment, Briggs and Cuddy trade barbs like an open-range Tracy and Hepburn the next.
It doesn't help that Swank never finds a way into her gruff, stolid character or that Jones (mostly phoning in pitiable surliness) avoids delving very deeply into the story's protofeminist undercurrents—heavily obvious jibes against patriarchy in need of much stronger execution. Jones is on surer footing with the peripheral characters: Tim Blake Nelson brings some welcome nuttiness as a horned-up kidnapper. James Spader clearly relishes his two scenes as an officious hotel owner. (He and Jones positively crackle together.) And that grande dame of the American cinema, Meryl Streep, makes the most of her cameo as a preacher's wife whose kindliness is beyond practiced.
Follow Keith Uhlich on Twitter: @keithuhlich
Details
Release details
Rated:
R
Release date:
Friday November 14 2014
Duration:
122 mins
Cast and crew
Director:
Tommy Lee Jones
Screenwriter:
Tommy Lee Jones
Cast:
Tommy Lee Jones
Hilary Swank
Miranda Otto
John Lithgow
Tim Blake Nelson
Meryl Streep