The Hunger Games: Catching Fire: movie review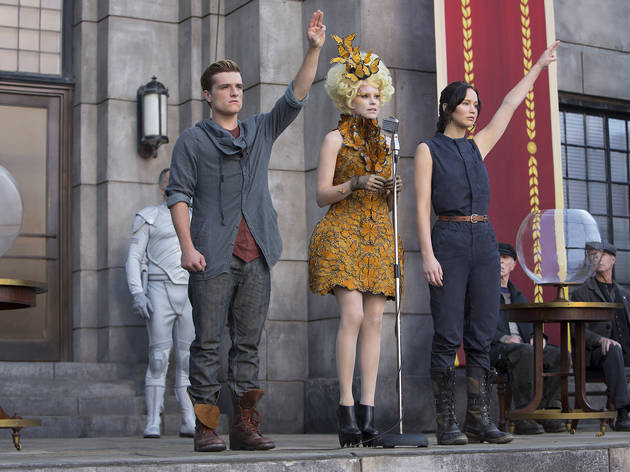 It's tough at the top. Katniss Everdeen (Jennifer Lawrence) and Peeta Mellark (Josh Hutcherson) have won the Hunger Games, the first dual champions in the bloody battle royale's 74-year-old history. Now they have to deal with the soul-sucking expectations of celebrity, something that has already all but done in the pair's alcoholic mentor, Haymitch Abernathy (Woody Harrelson). So they put on their best game face, smooching plenty for the cameras—even though Katniss's heart also yearns for strapping coal miner Gale Hawthorne (Liam Hemsworth)—and robotically reading cue cards that emphasize the greatness of the totalitarian nation of Panem.
There's rebellion in the air, however—everywhere the troubled Katniss goes, someone is guaranteed to raise their hand in a three-fingered salute of solidarity and get a bullet to the brain for their troubles. Panem's nefarious leader, President Snow (Donald Sutherland), knows revolution is on the horizon, so he and his spectacularly monikered henchman, Plutarch Heavensbee (Philip Seymour Hoffman), cook up something special for the games' 75th edition: Pit as many past winners as possible against each other, and quell this fire before it burns out of control.
Conversely, the conflagration that is the Hunger Games franchise is already well beyond full scorch. Novelist Suzanne Collins's dystopian YA trilogy is a bona fide publishing and moviegoing phenomenon, to the point that everyone involved could easily rest on their laurels and let the preordained cash roll in. Credit series newcomer Francis Lawrence (I Am Legend) and his collaborators for pushing things ever-so-slightly past tentpole-blockbuster indifference.
In Catching Fire's first half especially, there's a palpable sense of unease and world-weary regret weighing on our plucky heroine. An early confrontation between the aggressive President Snow and a terrified Katniss has more purposeful charge than anything in Gary Ross's weak-tea first installment of the series. Even when the rote action sequences inevitably take over—these bigger, badder Hunger Games now come with poison fog and killer CGI monkeys!—the film still makes room for some slyly humorous supporting work by Jena Malone as an ax-wielding cynic, and Jeffrey Wright and Amanda Plummer as scatterbrained science whizzes. A Matrix Reloaded–like cliffhanger reminds that this is only the second installment out of four (good lord), but at least the flick leaves us with more than a tinge of interest in whom the odds will favor next.
Follow Keith Uhlich on Twitter: @keithuhlich
Release details
Rated:
PG-13
Release date:
Friday November 22 2013
Duration:
146 mins
Cast and crew
Director:
Francis Lawrence
Screenwriter:
Simon Beaufoy, Michael Arndt
Cast:
Jennifer Lawrence
Josh Hutcherson
Liam Hemsworth
Woody Harrelson
Donald Sutherland
Philip Seymour Hoffman
Jena Malone
Jeffrey Wright
Amanda Plummer