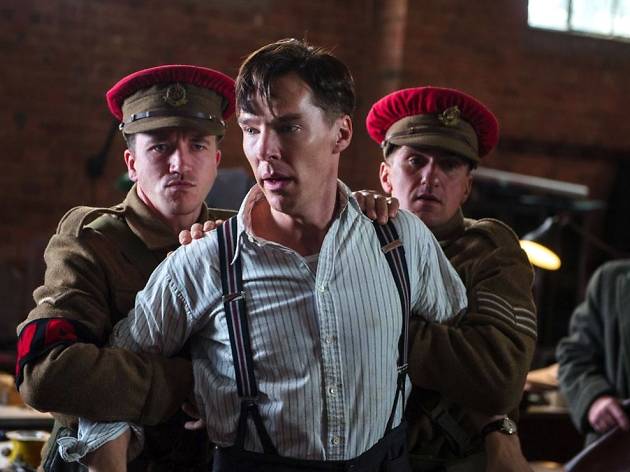 Time Out says
Hidden codes, secret meanings and mixed messages pulse through the reliable, old-fashioned, buzzing copper wires of true-life period drama The Imitation Game. Snappy and not too solemn, but perhaps not as much of a psychological puzzle as it could have been, the film gives us key episodes in the tragic life of Alan Turing. He was the mathematician whose biting antisocial intelligence briefly ran in step with the needs of the British war effort in the 1940s when he was employed to help break the Nazis' Enigma code at Bletchley Park.
Turing's wartime achievements, kept under wraps for years, counted for nothing when his homosexuality fell foul of the law in the early 1950s, sending an already fragile personality into free fall. Benedict Cumberbatch, no stranger to roles with a hint of sociopathic genius, delivers a performance with more complexity and knots than the film around him. The script tends to spell out its themes, repeating a corny slogan: "Sometimes it is the people who no one imagines anything of, who do the things that no one can imagine." Cumberbatch, though, defies the film's simplicity. His Turing is awkward, determined, at times comically standoffish (a description that could just as easily apply to his portrayals of Stephen Hawking, Julian Assange and Sherlock Holmes).
Mainly, the film lingers on the war period and the code-breaking years, where it's most comfortable as an ensemble, getting-the-team-together drama. Director Morten Tyldum and writer Graham Moore sketch out Turing's initial conflicts with his Bletchley colleagues (led by Matthew Goode, with Charles Dance and Mark Strong as the bosses) and his friendship with fellow code breaker Joan Clarke (nicely underplayed by Keira Knightley), who was briefly his fiancée. But perhaps the most moving, enlightening and sweetly played scenes are of Turing's school days, when we see a young Turing (portrayed with tenderness by the excellent Alex Lawther), fragile, stuttering and in love with a fellow pupil. Less delicate is a later scene where Turing is effectively presented as being in love with his big, awkward protocomputer—named Christopher after his schoolboy romance.
You won't need anything like Turing's powers of detection to understand what the energetic, respectable The Imitation Game has to offer. Its various riffs on codes— whether moral, sexual, societal or German—are plain to see rather than enigmatic or enlightening. Luckily it's all anchored in a storming performance from Cumberbatch: You'll be deciphering his work long after the credits roll.
Details
Release details
Rated:
PG-13
Release date:
Friday November 28 2014
Duration:
114 mins
Cast and crew
Director:
Morten Tyldum
Screenwriter:
Graham Moore
Cast:
Benedict Cumberbatch
Keira Knightley
Matthew Goode

Rating Breakdown
5 star:

0

4 star:

1

3 star:

0

2 star:

0

1 star:

0