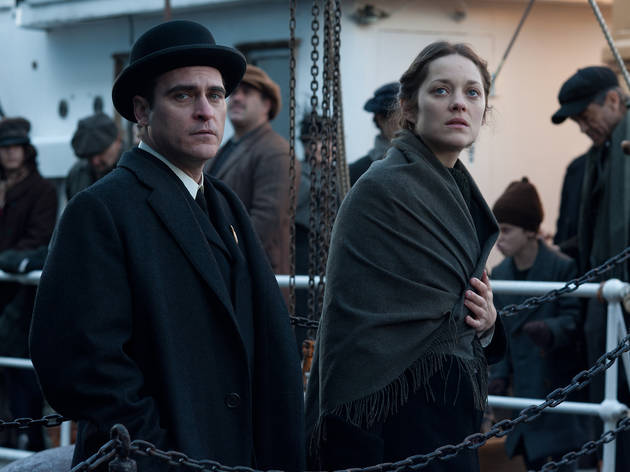 Lady Liberty's back is turned: Far from being a beacon of hope, New York Harbor's torch-bearing statue is a coldly distant presence in the first shot of James Gray's magnificent 1920s melodrama. The message is clear—once the huddled masses get beyond the New World's shining symbol of betterment, then what?
For Ewa Cybulska (Marion Cotillard), a Polish woman traveling to the United States with her tubercular sister in tow, it means a purgatorial stopover. Immediately after arriving at Ellis Island, her sibling is confined to a sick ward and faces deportation. Ewa is also denied entry into Manhattan, and it's only through the deceptive good graces of low-rent-burlesque purveyor Bruno Weiss (Joaquin Phoenix) that she finds herself in the big city, with golden-tongued guarantees from this new acquaintance that he'll pull strings to get her sister released.
The gentleman isn't all he says he is, of course. You can see that in the amateurish way he carnival-barks from the stage, hammily introducing the scantily clad women, Ewa included, whom he pimps out after each performance to the highest bidder. He has no rhythm, no presence—he's an uncharismatic schlub hopelessly smitten with this ethereal creature he's (to his mind) rescued.
Cotillard works in a parallel register to Phoenix, complementing his twitchy Method stylings with ready-for-my-close-up stillness and serenity. (Lillian Gish could have played this tortured lamb in one of D.W. Griffith's melodramas.) There's also a third point in this intimate triangle—Jeremy Renner's alluring magician, Orlando, who's everything Bruno isn't: magnetic, agile, brimming with conviction. (In one of the most entrancing sequences, he even levitates.) Yet there's just enough of the sleight-of-hand huckster about him that his own assurances to Ewa never seem solid. As is so often the case in this country of ours, we want to believe in the widely touted promises of a better life, even if they're ultimately an illusion.
The Immigrant is a bleak story, and Gray favors a narrative classicism that seems out of vogue—at least as far as current American cinema goes—in its slow-build patience and delicacy. You may often find yourself second-guessing the film, questioning how—and if—it will all come together. But by the time of the intense and impassioned climax, a storm of emotion is ensured: a great movie rising before you like a delusion, like a dream.
Follow Keith Uhlich on Twitter: @keithuhlich
Release details
| | |
| --- | --- |
| Rated: | R |
| Release date: | Friday May 16 2014 |
| Duration: | 120 mins |
Cast and crew
Director:
James Gray
Screenwriter:
James Gray
Cast:
Jeremy Renner
Marion Cotillard
Joaquin Phoenix
Ilia Volok