The Internship: movie review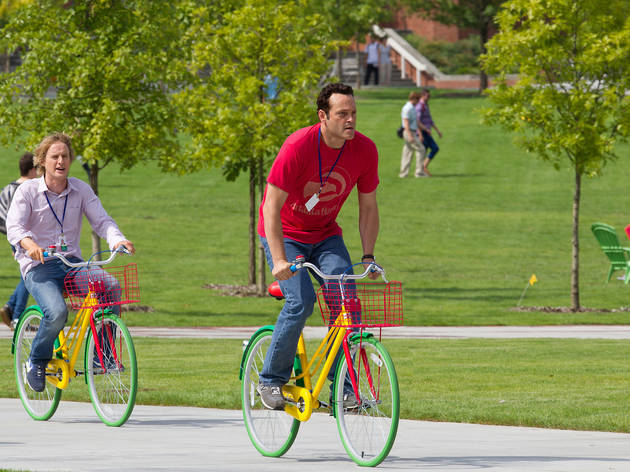 Thanks to his unvaryingly untucked insouciance, Vince Vaughn appears to be slouching toward mass ignominy. But in truth he's been hustling of late, having taken up screenwriting and penned three recent snark-coms, including this dispiriting reteam with fellow Wedding Crasher Owen Wilson. Vaughn's Billy is a smooth-talking salesman who, alongside his chummy partner Nick, finds himself professionally obsolete. As quickly as you can mutter "high concept," the tech-illiterate duo charm their way into age-inappropriate internships at Google, where, thanks to old-school moxie and Hollywood shorthand, they show nerds how to party and become patron saints of second chances.
The Internship is all too eager to affirm the go-bro status quo, and so as not to alienate any multiplexgoer, the film's brainy young interns are made out to be cuddly Big Bang Theory–ish cartoons—the tiger mama's boy, the cosplay-curious virgin. Nothing surprises here, save the ease with which Bridesmaids standout Rose Byrne is sidelined as an ornamental love interest and the unabashedness of the film's teat-suck brand worship. Supersizing product placement to the level of full-on corporate sponsorship, director Shawn Levy envisions the Internet giant's Bay Area compound as an amusement park Shangri-la of gleaming surfaces and unlimited refills. Alas, such kowtowing is indicative of a movie sorely bereft of ideas, laughs and justification for the comic duo's undifferentiating self-regard.
Follow Eric Hynes on Twitter: @eshynes
Release details
Rated:
PG-13
Release date:
Friday June 7 2013
Duration:
119 mins
Cast and crew
Director:
Shawn Levy
Screenwriter:
Vince Vaughn, Jared Stern
Cast:
Owen Wilson
Vince Vaughn
Will Ferrell