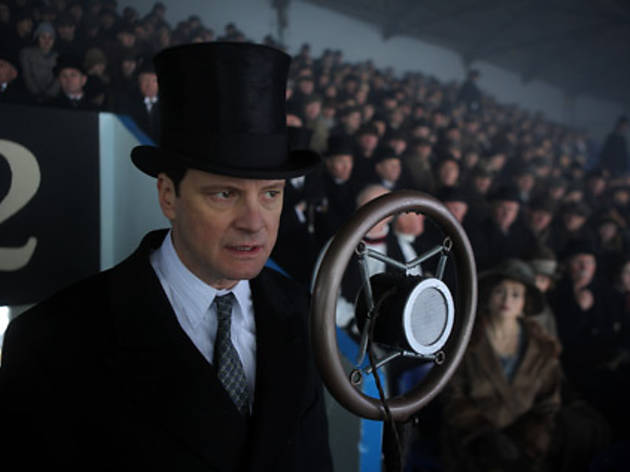 By now, it must be obvious why England keeps its monarchs around: They make for such lovably ridiculous characters. In The Queen, we enjoyed watching Helen Mirren learn how to express grief like a normal person. Now comes Colin Firth in The King's Speech (royals are people too), a prestige film of enormous likability when it remembers to be a reverse My Fair Lady. No cockney flower girl, the Duke of York still has an arresting stammer, possibly because he's grown up in the velvety basso profundo presence of Michael Gambon's commanding King George V. The throne beckons, though, as do microphones at important social functions. (Anxiety!)
Enter the movie's unpretentious Henry Higgins: Aussie-born speech therapist Lionel Logue (Rush, thickly sliced ham), who pays no mind to the formalities of deference and urges his student, "Bertie," to swear like a rascal. Their relationship alternates between warm and testy, and director Tom Hooper knows to make it the heart of his film. (He did something similar with the superior The Damned United, about arrogant British soccer coach Brian Clough and his overlooked assistant trainer, Peter Taylor.) Prince Albert gains in confidence, and Firth is exceptional in letting us into his dissolving pride.
But must an American critic be the one to point out that the dude might not have much to say in the first place? A war with "Herr Hitler" brews; here on the sidelines are figures like Winston Churchill (Timothy Spall, almost a caricature), who would actually make the tough calls. Honestly, the thought of George VI flubbing his big moment pales in the larger picture. Via some closing text, we learn that he inspired the nation to strength. But politics is about more than being in fine voice.
Watch the trailer
Release details
Rated:
R
Release date:
Friday January 28 2011
Duration:
118 mins
Cast and crew
Rating Breakdown
5 star:

0

4 star:

0

3 star:

1

2 star:

0

1 star:

0
I went to this movie on a date, and the girl perfectly summed it up afterwards with the comment, "I dunno, it was just way too British." I've got nothing against the Brits, but my GOD was this movie dry in a way only they could appreciate...It was a nice enough story, and the acting was fine, but all the conversations were sooooo long and soooo boring.