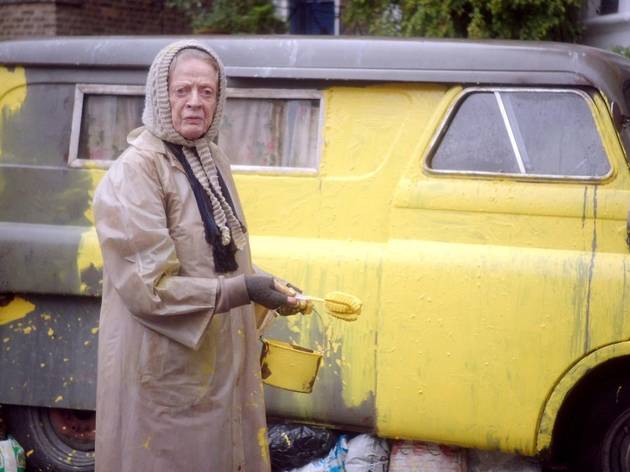 Time Out says
Maggie Smith is excellent in this cozy comic tale carved from writer Alan Bennett's own life.
Imagine Maggie Smith's cantankerous dowager in Downton Abbey as a bag lady—she's still lording it over everyone, but now she's dressed in a filthy men's coat with tape patching up the rips and unsightly brown smears down the back.
Meet Miss Shepherd, an elderly homeless woman who lived in a camper van in playwright Alan Bennett's front garden in London for 15 years. Smith played Miss Shepherd in Bennett's hit 1989 play and takes on the role again in this hugely entertaining, big-hearted and funny film adaptation directed by his long-standing collaborator Nicholas Hytner (The History Boys).
The film was shot in the actual house on the street where the real events took place. Alex Jennings plays Bennett, who buys his house in the late 1960s. His neighbors are writers and intellectuals—guilty liberals who put up with Miss Shepherd's van parked outside their book-lined homes to prove how tolerant they are. When the local authorities threaten to shoo her, Bennett offers Miss S. the use of his front garden for a couple of weeks. She never leaves. His mother, visiting from Yorkshire, wonders what she does for a toilet.
The film offers glimpses of Bennett's private life, like his crush on a cocky young actor starring in one of his plays. But the focus is on the gloriously rude Miss Shepherd. Any whiff of charity ruffles her ego, so when a neighbor knocks on her window with a creme brulee, she accepts it with haughty contempt. Her delusions of grandeur are hilarious (she believes she's receiving direct messages from the Virgin Mary). Smith plays all this dead straight, poker-faced for maximum laughs. It's a peppery, unsentimental performance. She's hysterically funny until she's not, flooring you as the regret and tragedy behind Miss Shepherd's vagabond life is revealed.
Details
Release details
Rated:
PG-13
Duration:
104 mins
Cast and crew
Director:
Nicholas Hytner
Screenwriter:
Alan Bennett
Cast:
Maggie Smith
Dominic Cooper
James Corden
Alex Jennings

Users say