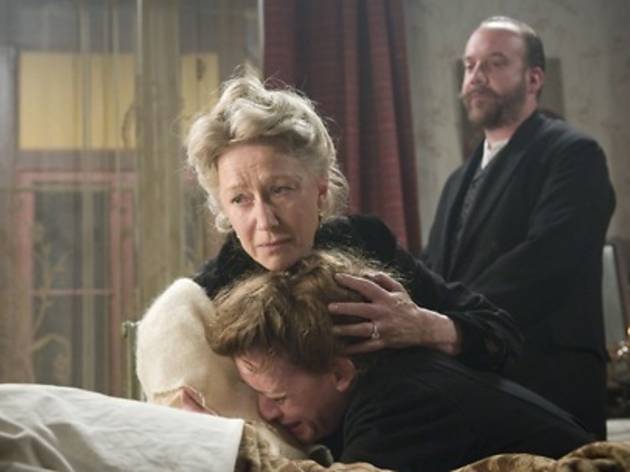 Prone to slipping into corny comedy and, worse, confusion over its viewpoint, Michael Hoffman's biopic of Leo Tolstoy's final year filters its historical drama through a turgid coming-of-age experience. The author's acolyte Valentin (McAvoy) is commissioned by a literary
fanatic (Giamatti) to assist the Russian writer (Plummer) and spy on the household's goings-on. At Tolstoy's country estate, things become tense thanks to an impending decision to bequeath his work to the public domain and, in doing so, leave his disapproving wife—the Countess Sofya (Mirren)—out in the financial cold.
The Last Station never decides if this famous figure is a saint, a loon or merely an infirm old coot being exploited by his followers. It's an indecisiveness that the director extends to his misshapen characterizations of the frequently freaking-out countess and the virginal Valentin, whose education in love is embellished by a drearily cute penchant for sneezing when nervous. Working with uneven material, the illustrious cast is too often stranded in a realm of tony, high-art camp—notably a hammy Plummer and Mirren suffering through a foreplay scene that requires the celebrated veteran actors to crazily coo cock-a-doodle-doos to each other.
Release details
| | |
| --- | --- |
| Rated: | R |
| Release date: | Friday December 11 2009 |
| Duration: | 112 mins |
Cast and crew
Director:
Michael Hoffman
Cast:
James McAvoy
Helen Mirren
Christopher Plummer
Paul Giamatti