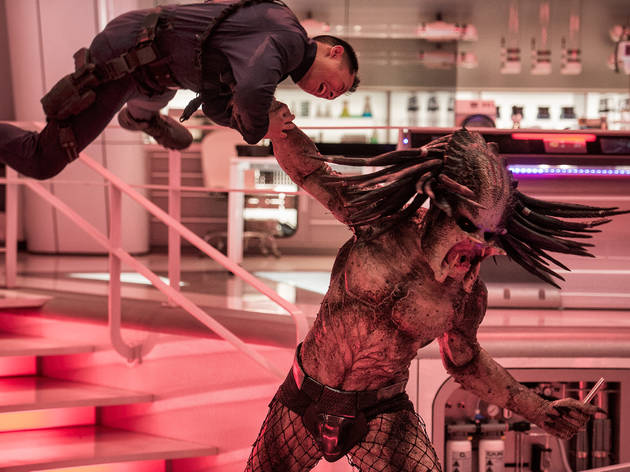 Time Out says
Just this side of meta, the verbal action-sci-fi update loves telling you how much fun you're having.
Shane Black, co-writer and director of the rebooted The Predator, appeared in the 1987 original as dead meat: the kind of wise-cracking character that gets killed off early. (He was just a hot-shit script seller at that point, thrilled to be included in some primo Arnold Schwarzenegger dumb.) As satisfying as it's been to see Black evolve into a distinctive, banter-friendly voice—The Nice Guys is a recent example—his Predator is exactly the sort of flick he would have made 30 years ago when he played that gangly supporting clown. It's aggressively pacey, overloaded with smug one-liners, gore-laden and unlikely to have much of a future.
Today's run through the jungle doesn't include Ah-nold or, indeed, anyone to gaze with bewilderment at a dreadlocked alien with a cloaking device. But it does feature the intriguingly hard-edged Olivia Munn as a biologist who's called into a secret lab to do some explaining. (Munn has a variation on the first movie's sole memorable line, but she swaps out "ugly" for "beautiful.") Also on hand for combat with the green-blooded invaders (there's more than one this time) are a wry ex-Army Ranger (Boyd Holbrook), a Con Air–chatty busload of military nuts (including Keegan-Michael Key and Moonlight's Trevante Rhodes) and an autistic child (Room's Jacob Tremblay).
Were it not for the hard-R violence and a generous amount of computerized splatter, The Predator would play like a slightly naughtier Independence Day or Armageddon, sci-fi movies that had their squareness dirtied up by pop-culture-riffing jokesters hired to polish up a draft or two. The love of '80s and '90s action movies may be palpable, but Black always feels the need to be winking at us with his hyperactive dialogue, so some of the dorky solemnity of the older films is lost. In its Rambo-alike moments, the first Predator converted echoes of Vietnam into cheesy thrills. Black wants to do the same with veterans of Iraq and Afghanistan but only Thomas Jane's tic-laden PTSD and Tourette's survivor improves on the concept. It's a so-so movie for grown-up kids who like the smell of their own trash.
Follow Joshua Rothkopf on Twitter: @joshrothkopf
Details
Release details
Rated:
R
Release date:
Friday September 14 2018
Duration:
107 mins
Cast and crew
Director:
Shane Black
Screenwriter:
Shane Black, Fred Dekker
Cast:
Olivia Munn
Boyd Holbrook
Trevante Rhodes
Keegan-Michael Key
Jacob Tremblay