The Punk Singer: movie review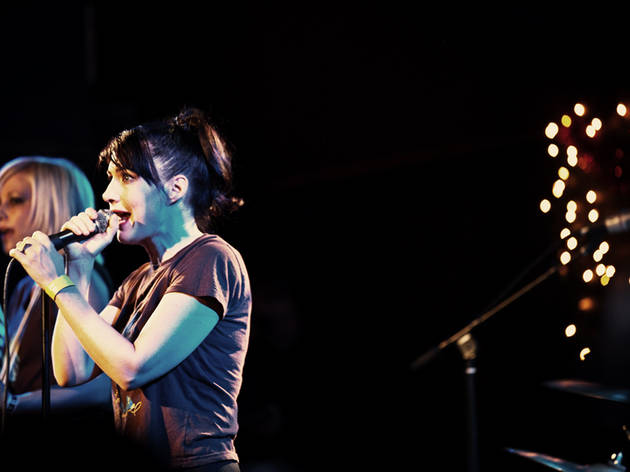 Time Out says
In 2010, two decades after riot grrrl became an explosive cultural force, interest in the movement surged thanks to two books (Sara Marcus's Girls to the Front and Marisa Meltzer's Girl Power), and the news that NYU's Fales Library was collecting zines and other documents for a riot-grrrl archive. But at the same time, unbeknownst to most people, Kathleen Hanna—the former Bikini Kill frontwoman often credited as the movement's driving force—was in the midst of a nightmarish fight with late-stage Lyme disease, which limited her ability to work and appear in public.

Throughout that period, filmmaker Sini Anderson was there, chronicling Hanna's life (and her bad days) for The Punk Singer, an engrossing new documentary about the icon. The director doesn't shy away from showing the illness's toll—at one point, Hanna is hooked up to a long-term catheter—but the film's larger focus in on Hanna's legacy as an artist, musician and feminist firebrand. Anderson draws on extensive interviews with the performer, who is remarkably candid about her abusive upbringing, her medical struggles and the torment she faced as the public face of a movement.

Anderson also includes archival footage and interviews with women like Sonic Youth's Kim Gordon and fellow riot grrrls Corin Tucker and Carrie Brownstein (formerly of Sleater-Kinney) that reveal how Hanna's ideas and influence permeated not just the punk scene (her exhortation of "Girls to the front!," to young women in aggressive mosh pits, was nothing short of revolutionary), but also female culture at large. Hanna's husband, Adam Horovitz of the Beastie Boys, also appears, providing tender remembrances of the couple's burgeoning relationship. Although the film was completed too early to document Hanna's return to music—her new band, the Julie Ruin, released an album in September and has been touring—it still offers a poignant, intimate portrait of a larger-than-life personality—one whose singular voice is still sorely needed in music, culture and, well, everywhere.
Follow Amy Plitt on Twitter: @plitter
Details
Release details
Cast and crew
Users say