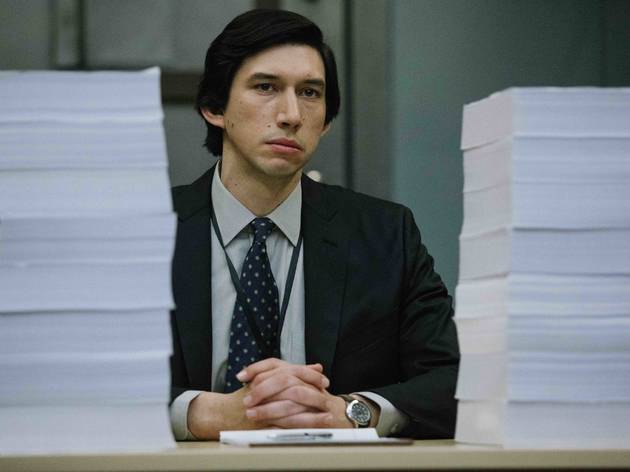 Time Out says
A harrowing real-life exposé about CIA malfeasance is poorly served by a monotonous blast of talky outrage.
The facts in this political thriller—of which there are many—are scary and worth getting out there. Essentially, the CIA embarked on a post-9/11 program of violent interrogation that amounted to torture. None of it resulted in any actionable intelligence, ever. Secretly, the CIA arrived at this conclusion on its own, while a diligent six-year oversight investigation publicly twisted in the wind.
Unfortunately, The Report is also a deafeningly dull movie, loaded with office speech after office speech. It forgets to shape its relentless two-hour data dump into drama. You can agree with its thrust while still feeling that something majorly irresponsible has happened with Scott Z. Burns's myopic direction and hectoring script; he makes Aaron Sorkin seem quiet and elegant.
Adam Driver has the believable braininess to pull off the movie's crusading Daniel Jones, a Senate-appointed investigator whose zeal produced a 6,700-page document. You never doubt his command of the statistics. But to watch him in BlackKklansman or Marriage Story is to know he's capable of a deeper emotional resonance that's absent here. Burns gets a kick out of playing him against a constantly shocked Senator Dianne Feinstein (Annette Bening, given little room to create an actual performance), the two of them approximating the hoped-for relationship between movie and viewer: Can you believe this stuff happened? What?
Burns, a protégé of Steven Soderbergh, can occasionally craft a line of tartly banal dialogue: One government spook declares that it's "time to put on our big-boy pants." Years later, a frustrated CIA agent asks the overconfident waterboarders, "Where's the special sauce?" And there are random visual flourishes—a nightmarish PowerPoint presentation ending with a slide about mock burials—that hint at the Strangelovian film The Report might have been. But mainly, we're pinned down by a fire-hose stream of didactic outrage. An appealing supporting cast, including Jon Hamm, Ted Levine and Matthew Rhys, is stranded in the verbiage. "You don't really have a legal problem—you have a sunlight problem," a journalist says to Jones. The movie does, too: Its nose is stuck in a book.
Follow Joshua Rothkopf on Twitter: @joshrothkopf
Details
Release details
Rated:
R
Release date:
Friday November 15 2019
Duration:
119 mins
Cast and crew
Director:
Scott Z. Burns
Screenwriter:
Scott Z. Burns
Cast:
Adam Driver
Annette Bening
Ted Levine
Jon Hamm

Users say