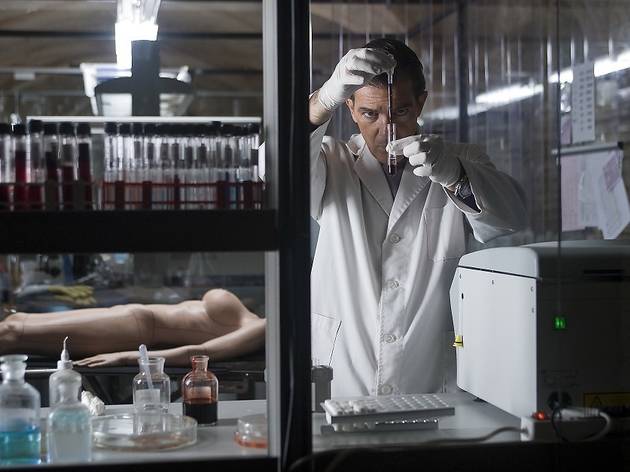 Once again Pedro Almodóvar reveals his genius for turning the ridiculous into the sublime with this creepy skin flick – a melodramatic thriller that is sombre but never sober and that moves through time and space with much of the boldness and style we've come to expect from Spain's leading director, even if it doesn't have the overall sense of unity and authorial command of the likes of 'Volver' or 'All About My Mother'. Almodóvar's ambition sometimes overtakes his writing, and at points his storytelling tends towards the knotty. It's also a film that's more interesting in the unveiling than the conclusion, and its last twenty minutes feel a little underwhelming and pedestrian compared to much of what's come before. Mostly, though, this is a wonderfully strange, oddly sexy and attractively perverse mystery.

'The Skin I Live In' also reunites Almodóvar with Antonio Banderas, who puts in a charismatic turn as a tragic figure touched by evil. The last time Banderas worked with Almodóvar was for 'Tie Me Up! Tie Me Down!' in 1990. Twenty-one years later, they're back together for an adaptation of Thierry Jonquet's French novel 'Mygale' ('Tarantula' in English translation), the story of a plastic surgeon, Dr Robert Ledgard (Banderas), whose skills with the knife allow him to take control of a supremely messy personal life in ways unimaginable to anyone but him. Banderas puts in a commanding performance in a film whose thriller tendencies are made doubly interesting by also being an artful study of masks and identities, sex and flesh, bodies and power.

The less said about the story, the better, as it's built on slow revelations and quick surprises. 'The Skin I Live In' is rooted in pain and loss, which pulls the film's more melodramatic side into a more thoughtful, provocative place than its surface suggests. It begins in Toledo in 2012, and Robert is a successful surgeon who lectures on the possibilities of genetic skin transformation and transplants. At his stylish villa, he lives with a loyal female housekeeper, Marilia (Marisa Paredes), and locked in an airy room at the top of his house is a beautiful young woman, Vera (Elena Anaya), who we first meet dressed up to her neck in a tight, flesh-coloured body suit.

Vera's strange presence is compelling and alienating, and she's a mystery that the film takes its full length to solve. Robert observes her from elsewhere in the house through video screens. We learn that his wife was horribly burned in a car crash several years earlier and killed herself, and we learn that he lost a daughter, Norma (Blanca Suárez) in similar fashion. A lengthy flashback to six years earlier reveals what happened to Norma and starts to explain why Vera is now a prisoner in Robert's home…

After 'Broken Embraces', 'The Skin I Live In' continues Almodóvar's journey into darker, more sombre storytelling and into more upscale and interior worlds. Again, too, he chills his palette, rejecting the brighter colours of old for something more maudlin and steely. There are flashes of humour, usually of the nervous kind. Mostly, though, this plays as a psychosexual thriller whose wild events and plot turns are anchored soberly in both Almodóvar's meticulous direction and a performance from Banderas that swerves the more maniacal aspects of his character to offer an intensely controlled, deadly charming screen presence.

Cast and crew
Director:
Pedro Almodóvar
Screenwriter:
Pedro Almodóvar
Cast:
Antonio Banderas
Elena Anaya
Marisa Paredes