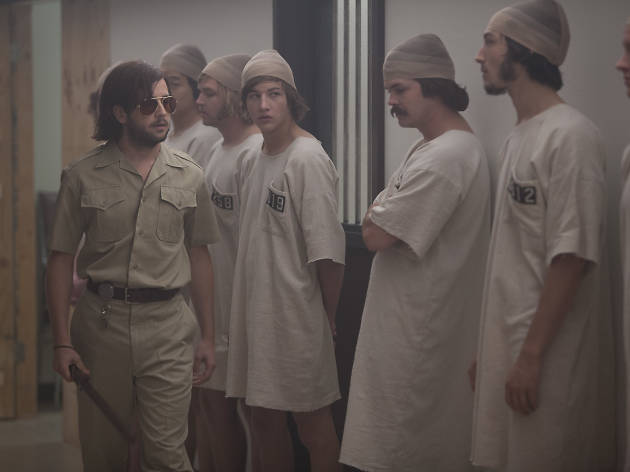 Revisits a landmark experiment with no new hypotheses
A vividly told but crushingly literal dramatization of an event that's in every psych textbook published during the last 40 years, Kyle Patrick Alvarez's new film is compelling and useless in equal measure. In the late summer of 1971, professor Philip Zimbardo (Billy Crudup) conceived and executed a government-funded experiment in which 24 young students were paid a nominal fee to simulate a prison environment for two weeks. The subjects were randomly assigned into one of two roles, prisoners or guards, Zimbardo's intention being to determine if human behavior is more critically influenced by inherent traits or institutional cues. Barely 24 hours passed before the violence started.
Ostensibly adapted from a book Zimbardo wrote in 2007 (a semantic distinction, as everything depicted here was a matter of public record long before then), The Stanford Prison Experiment unfolds with the depth and creativity of a Wikipedia page. Alvarez, too seduced by the experiment's intrinsic cinematic appeal, restages the events with plenty of suspense but a paucity of imagination. Despite assembling a top-tier cast of buzzy young talent (Michael Angarano is particularly game as a guard who adopts the persona of Strother Martin's sadistic warden from Cool Hand Luke), the film can't overcome the hint that its actors have less conviction in their parts than Zimbardo's actual subjects did. It's hard to shake the thought that a documentary about the making of this movie would have been a more insightful way of reexamining Zimbardo's work, particularly as front-page atrocities like Abu Ghraib and Ferguson continue to affirm the basic validity of his findings. On the bright side, substitute teachers finally have something new to screen for that psych class they got stuck with for the afternoon.
Follow David Ehrlich on Twitter: @davidehrlich
Release details
| | |
| --- | --- |
| Rated: | R |
| Release date: | Friday July 17 2015 |
| Duration: | 120 mins |
Cast and crew
Director:
Kyle Patrick Alvarez
Cast:
Billy Crudup
Michael Angarano
Ezra Miller