The World's End: movie review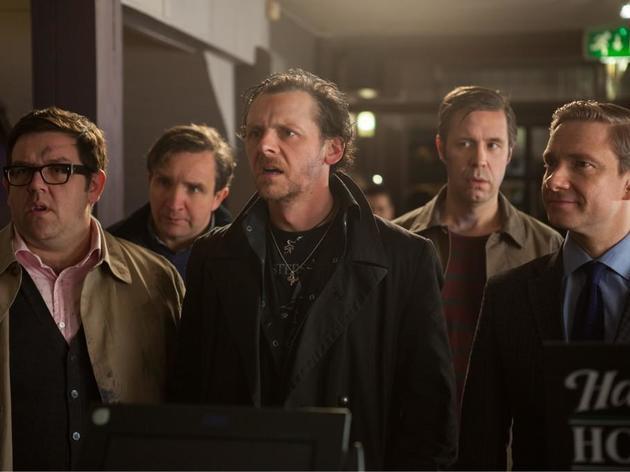 Time Out says
"We want to be free!" pleads Simon Pegg from a pit of despair. "Free to do what we want, to be who we choose—any old time!" The moment could spring from Brit TV's ominous The Prisoner or any dystopian nightmare of your choosing, and The World's End is very much one (more on this in a bit) while mainly being the funniest comedy of the year. But the careful listener will also hear a word-for-word quotation of the Soup Dragons' dopey 1990 cover of the Stones' "I'm Free"—and that's key. The beauty of this movie, both a nostalgic romp and a futuristic scream, is its stubborn insistence on getting all the trapped-in-amber details right.
The amber in this case is beer: Gary King (Simon Pegg), a desiccated fortyish layabout with a Sisters of Mercy T-shirt and a loner's grizzle, dreams of reclaiming his glory days, when he led his gang of five on a suburban England pub crawl called the Golden Mile. Those former cohorts—Andy (Nick Frost), Steven (Paddy Considine), Peter (Eddie Marsan) and Oliver (Martin Freeman)—have all thickened into responsible, job-holding adults, a status Gary can't handle. Pathetically, he appears in their doorways, ancient mixtape at the ready, for a reunion you already know they'll agree to, even as the plot hides several killer surprises.
Scripted by Pegg and director Edgar Wright, The World's End comes from the team that crafted Shaun of the Dead (2004), still the best piss-take on the zom-com, and the equally droll Hot Fuzz (2007). Both constitute a tartly English perspective on movie mania, generational inertia and the need to grow up. But something wonderful—even touching?—has happened with their latest. The cast's voices have dropped what sounds like an octave, revealing age and wear. Their paunches have grown. Wright still cuts his footage with a youthful vigor, capturing every tapped pint of lager with a snappy hiss, but his players (especially Frost and Pegg) are ready to go darker.
Impressively, the material is strong enough to take them there. It starts as a lark, but a rich vein of desperation colors every exchange. Does Gary really think he's going to get anywhere with still-glowing Sam (Rosamund Pike, a welcome, no-nonsense female presence), two decades after his conquest in the disabled's loo? The resentments spill over, all in Wright and Pegg's slightly dizzying curlicues of wittiness, and their 12-pub, 12-step adventure seems about to implode. Who are these sullen teens with their headphones harshing Gary's mellow? "We were cooler," he spits—a sodden ex-goth having a meltdown.
And it's here that any fair reviewer will back off, giving this truly special film the privacy (deservingly, for a change) to ramble on its inventive path, one that still involves a fair amount of drunkenness. Trailers have already revealed too much; I won't add to their crime. Instead, let's have Gary do the heavy lifting: "It's not us that's changed, it's the town!" he moans, and even early on, the line is suggestive. If you remember Wright's brilliant two-minute contribution to 2007's Grindhouse—a hyperbolic horror trailer called "Don't"—you'll guess where he wants to take his miserable quintet. Getting there means facing down the past and its addictions, but what a joy it is seeing geeks rage against age. The title is as literal as they come.
Follow Joshua Rothkopf on Twitter: @joshrothkopf
Read our Q&A with director Edgar Wright and costars Simon Pegg and Nick Frost
Details
Release details
Rated:
R
Release date:
Friday August 23 2013
Duration:
109 mins
Cast and crew
Director:
Edgar Wright
Screenwriter:
Edgar Wright, Simon Pegg
Cast:
Simon Pegg
Nick Frost
Martin Freeman
Rosamund Pike
Eddie Marsan
Paddy Considine

Rating Breakdown
5 star:

0

4 star:

1

3 star:

0

2 star:

0

1 star:

0