This Is the End: movie review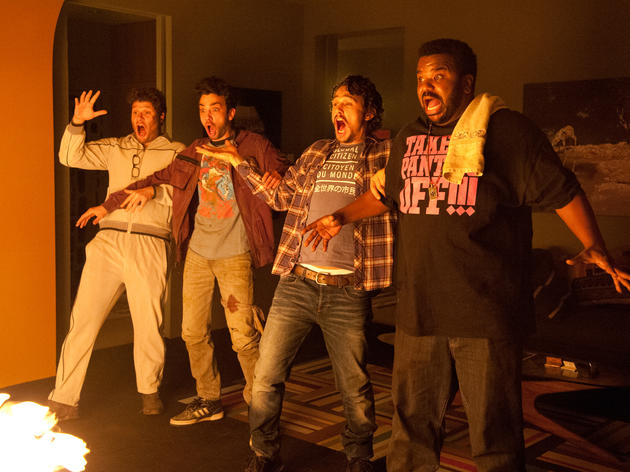 While the cream of the young Hollywood crop is partying at James Franco's house—Michael Cera mackin' on Rihanna, dude!—the gates of Gehenna open and Our Holy Father starts beaming the deserving up to Paradise. Everyone at Franco's gets left behind, of course (silly, sinful Tinseltownians), and after some fire-and-brimstone pruning, only a scatterbrained sextet remains: Franco, Jonah Hill, Seth Rogen, Jay Baruchel, Danny McBride and Craig Robinson, all playing themselves. Can they somehow survive the end-times and maybe, just maybe, redeem their unrighteous souls?
You'd think there'd be no ungodlier vision than a literally cock-rocking Beelzebub wreaking havoc on downtown L.A. But then there's the sight of six talented comic performers contorting themselves to wring laughs from Rogen and Evan Goldberg's flabby directorial debut. It's a hit-and-mostly-miss affair: For every gut-buster like McBride and Franco's lengthy exchange about drenching each other in seminal fluid, there's a fall-flat gag, such as an improvised-into-oblivion riff on raping special guest star Emma Watson, that quickly stifles the giggles.
Providing a heavier drag are the film's pseudo-serious attempts to mine pathos from Seth and Jay's coolly distant friendship. If only these former bros-in-arms could learn to sacrifice a bit more, then boys could finally become men and a heavenly chorus provided by the Backstreet Boys would sing them to their mutual rest. Have fun, guys. The rest of us will be down here raising hell with swinging-dick Satan.
Follow Keith Uhlich on Twitter: @keithuhlich
Release details
Rated:
R
Release date:
Wednesday June 12 2013
Duration:
107 mins
Cast and crew
Director:
Evan Goldberg, Seth Rogen
Cast:
James Franco
Emma Watson
Jonah Hill
Seth Rogen
Michael Cera
Danny McBride