Thor: The Dark World: movie review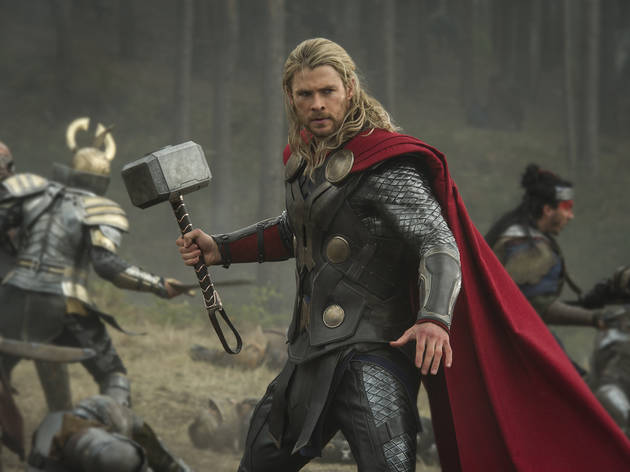 Time Out says
Superheroes: We seem to be tripping over them every time we walk into the multiplex now, regardless of what season it is or whether an 18– to 34-year-old male really would burn his $16.50 instead of giving it to Hollywood should he be deprived of muscular dudes in capes. We're in the midst of another banner annum for quality American (and American studio) filmmaking, with 2013 looking to be on par with the fondly remembered renaissance years of 2007 and 1999. For those of us who've binged on so much substantial cinema over the past two months, it's easy enough to forget that everything isn't rich Oscar-fodder paté; awards season or not, the menu still consists of year-round courses of meaty refuse stuffed into hot-dog skins, slathered in condiments to hide the taste and sold in bulk. Which brings us to the new Thor film, or as journalist Mark Harris recently referred to it as, Thor 2: Thor Harder.
When last seen, the Norse God of Thunder (Chris Hemsworth)—the one who bears a striking resemblance to Fabio, you remember him—was defending Gothamites from the hordes of aliens unleashed by his trickster brother, Loki (Tom Hiddleston), during the oft-mentioned Battle of New York. (See Avengers, The.) Since then, the blond-tressed hunk has been keeping himself occupied with the usual traipsing-among-the-nine-realms business, fighting alongside his warrior brethren and, in the case of Jaimie Alexander's lovelorn Sif, sister-ren. Trouble is brewing down on Earth, however, as Thor's inamorata, Jane Foster (Natlaie Portman), has stumbled across the "Ether"—an ancient black mist that has long been coveted by "the Dark Elves" in the time of Odin's father. She becomes its vessel. The head elf (et tu, Christopher Eccleston?) wants to get his hands on her. Shit, as it apt to do, goes down.
Over the rainbow bridge we go once more, with viewers being treated to a hodgepodge of Mythology 101 midterm answers, generically LOTR-ish battle scenes, sci-fi flotsam and jetsam, Marvelverse in-jokes (clever way to work in an Avengers castmate cameo, fellas) and Anthony Hopkins bellowing in his best plummy Shakespearean baritone. Anyone who's read the comic books knows this is keeping with the source material, yet there's something remarkably rote and rickety about all of this, even by second-tier superhero-movie standards; after Joss Whedon rewrote the rules for this company's franchises, The Dark World's high-price-tag fantasy trash—think of the '80s rayguns-and-Velveeta sagas that New World Pictures used to churn out, only minus the campy rush—feel especially threadbare. Even its deafening bells and whistles are boring.
It's not like director Alan Taylor doesn't have chops, either; the man has spent the past 15 years working on every one of HBO's major shows, and clearly knows how to serve someone else's vision while delivering the dramatic/comedic/fantastic goods. But none of that, much less the glossy fun that Marvel movies delivered while DC Comics adaptations went dark and somber, is present here. This is a superhero movie that feels like it might have been made by anyone and no one at the same time, simply space-filler before the next big team-up movie. Per usual, there's a coda that sets the scene for an upcoming entry in the ever-expanding multi-title network, a peek at what to expect from 2014's Guardians of the Galaxy flick. The question you're left with is, who is going to save Marvel from itself?
Follow David Fear on Twitter: @davidlfear
Details
Release details
Cast and crew
Director:
Alan Taylor
Screenwriter:
Christopher Yost
Cast:
Chris Hemsworth
Idris Elba
Natalie Portman
Tom Hiddleston
Anthony Hopkins
René Russo
Christopher Eccleston
Kat Dennings
Stellan Skarsgard
Jaimie Alexander

Users say