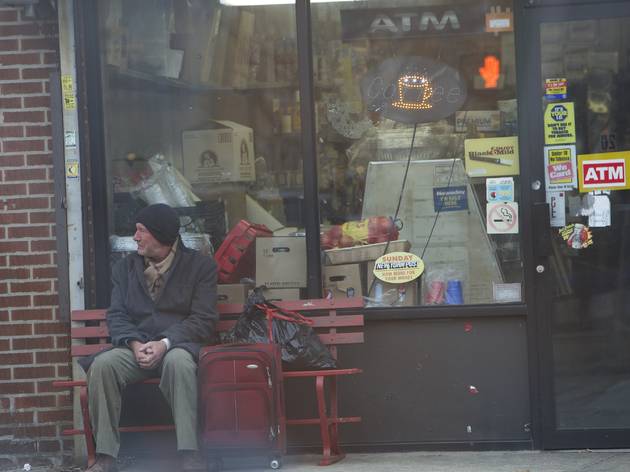 Richard Gere digs deep into anonymity for a homeless drama that articulates the shame of a city.
Almost a prisoner of his own handsomeness, Richard Gere has built critical credibility out of sideways squints and mumbles. The chatty silver fox of Arbitrage and Chicago is nowhere to be seen (and yet right in front of us) in the stirring Time Out of Mind, a remarkably committed portrait of NYC homelessness in which Gere—grizzled and often topped in a wool cap—hunkers destitute. Call it an actor's stunt if you must, but that would be overly dismissive of an indie with a serious mission of social awakening on its brow.
Working from a near-plotless scenario co-conceived with Jeffrey Caine, director Oren Moverman captures Gere in the shallow mid-distance as real people swarm past him without comment. (Much of the movie was shot guerrilla-style, with no one apparently the wiser.) That's the point of Time Out of Mind, which sometimes feels like a documentary experiment in celebrity negation. The movie's title comes from a 1997 Bob Dylan album, and though many of the singer's lyrics—"like a complete unknown"—would have fit the mood, Moverman decides to avoid offscreen music completely, except for the city's signature tune of public chatter and car honks.
Gere uses the opportunity to strip himself entirely of artifice, and it's a marvel of antitechnique. As we come to learn (very little) about George, as he's called, we fixate on only what can be seen and heard: some scary-looking head wounds, a tendency to quietly mumble to himself, restless sleep patterns, a shapeless stumble. He eventually comes into contact with another street person (Tony-winner Ben Vereen), as talkative as George is reserved. Thrown together, they share some misadventures in Kips Bay's noisy bed-for-a-night homeless shelter Bellevue, where bureaucracy and racial unease fill in the nightmarish picture.
Amazingly, that's enough for a captivating film, one that requires us to recalibrate our expectations. So it's the slightest letdown when Moverman adds in an estranged daughter (Jena Malone), tending bar and scowling whenever George invades her space. Their scorched earth has nothing on his other deprivations. Along with May's junkie drama Heaven Knows What, it's been a year to wake up to the desperation around us. Essential.
Follow Joshua Rothkopf on Twitter: @joshrothkopf
Release details
Rated:
N/R
Release date:
Wednesday September 9 2015
Duration:
120 mins
Cast and crew
Director:
Oren Moverman
Screenwriter:
Oren Moverman
Cast:
Richard Gere
Ben Vereen
Jena Malone