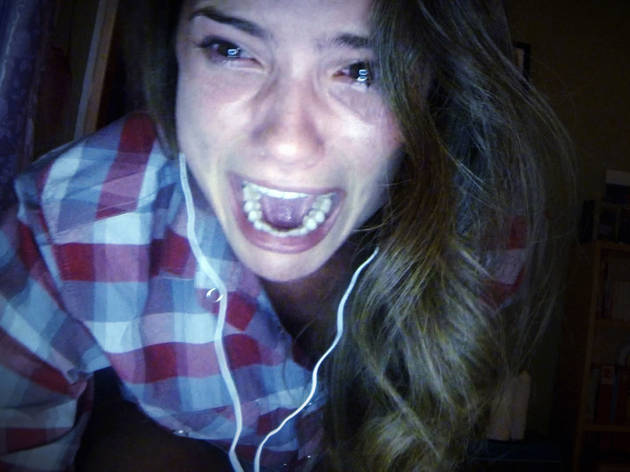 Time Out says
Movies are edited digitally on computers and viewed on iPads, so maybe it's natural (if not a little sad) to have an entire feature take place on one teen's very busy laptop screen. That's where we all live now anyhow, so why not? Unfriended is a horror film—which is to say bad things will happen—but parents might find it scary from the first jittery moment, as Skype windows squirm open with that gooey sigh, a blouse is unbuttoned and bad emo rock accompanies a modern-day cyberdate.
More friends crash the group chat, including one mystery-blue unnamed guest, and we soon learn that these kids are varying shades of awful: They've shamed a peer into suicide by posting a video of her, soiled and passed out at a party. The ghost in the machine has other plans for them, though. Even though Unfriended begins to cheat, springing loud noises and gory cutaways that can't be explained, there's a rigor to its dopey, blood-simple conception that you might smile at.
Uniformly, the cast does fine, acting like real high-schoolers (not Hollywood's version of them). But the fear comes from two different sources, one more sophisticated than the other. There's the shouty hysteria of the supernatural pushed right up in your face—which frankly gets tired. And more insidiously, there's the nightmare of programs gone haywire: Windows shed their corner "close" buttons, while pop-up ads take on an eerie intelligence. At the very least, Unfriended offers a new spin on that cathartic horror-audience response, "Just leave the house!" Let's scream it together: Shut the damn thing off!
Follow Joshua Rothkopf on Twitter: @joshrothkopf
Details
Release details
Rated:
R
Release date:
Friday April 17 2015
Duration:
82 mins
Cast and crew
Director:
Levan Gabriadze
Screenwriter:
Nelson Greaves
Cast:
Matthew Bohrer
Courtney Halverson
Shelley Hennig
Heather Sossaman

Users say