Upside Down: movie review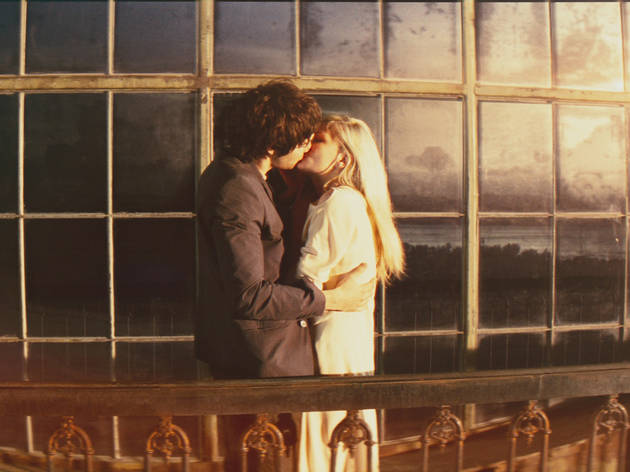 After a pie-eyed voiceover that rivals Dune in its free-associative incoherence—twin planets with their own gravitational forces, combustible inverse matter, pink bee pollen that makes objects levitate— Juan Solanas's alterna-universe romance begins in earnest. And we do mean in earnest: Wide-eyed sentimentalist Adam (Jim Sturgess) comes from the dank, poverty-stricken world below, while radiant Eden (Kirsten Dunst) hails from the gleamingly wealthy orb above. The latter society feeds off the former's resources, all at the behest of the gluttonous TransWorld corporation, and residents of one civilization (who view their counterparts as if they were…upside down!) are not to mingle with the other.
Adam and Eden break that dictum, of course, and this results in much moony-eyed romantic cooing—not to mention a convenient bout of amnesia, an infiltrate-TransWorld subplot, and what is probably cinema's first—and hopefully only—clothes-on, gyroscopic sex scene. To his credit, Solanas unabashedly believes in this heartstring-plucking hooey, and he certainly has a knack for striking images. (The planets-joining TransWorld skyscraper is an especially inventive creation, with its positive-negative floor designations and topsy-turvy cubicles that extend into seemingly infinite space.) But Sturgess and Dunst never generate much heat; they're mostly exposition-spouting stick figures barely worthy of their pseudo-Biblical character names. And the movie builds to a particularly deflating anticlimax, passing over an inevitably apocalyptic confrontation between spheres with a wink-wink, nudge-nudge bit of dialogue that's like a rejected punchline from a Douglas Adams novel.
Follow Keith Uhlich on Twitter: @keithuhlich