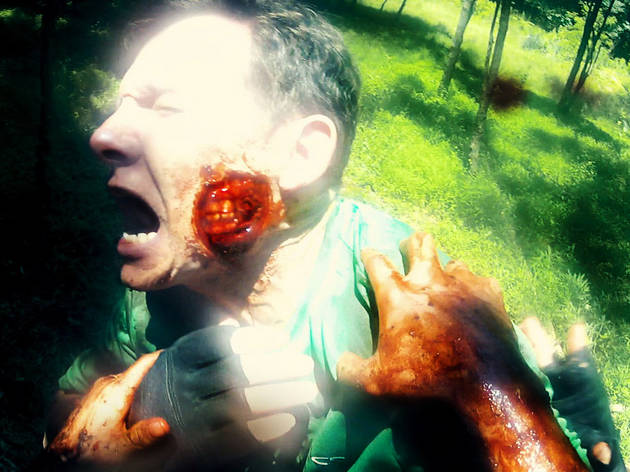 As wobbly as a VCR with a busted tracking knob, the second volume of this found-footage horror anthology reminds us that such four-for-the-price-of-one affairs aren't always a great bargain. Adam Wingard's kickoff segment, filmed from the perspective of a gentleman with a robotic eye (played by the director), sets itself up to explore surveillance culture and voyeurism, before quickly devolving into easy scares spiced with gratuitous female nudity.
That entry looks positively brilliant, however, compared with the section codirected by The Blair Witch Project's Eduardo Sánchez, an utter time-waster that follows a mountain biker as he's attacked by zombies and then goes searching for a snack; it's a thin premise even for a short, and it wears out fast.
None of the chapters use the unifying formal conceit to any real advantage; only one, directed by Timo Tjahjanto and The Raid: Redemption's Gareth Huw Evans, is worth a rental. Inquisitive journalists gain entry into an Indonesian cult's compound; a series of escalating climaxes, each more absurd than the last, simultaneously parodies overstuffed summer blockbusters and beats them at their own game. The duo's bid for speed-freak filmmaking supremacy is consistently surprising and gorily delightful. It also makes you wish that the movie came with its own fast-forward button.
Follow Sam Adams on Twitter: @SamuelAAdams
Release details
| | |
| --- | --- |
| Release date: | Friday July 12 2013 |
| Duration: | 96 mins |
Cast and crew
| | |
| --- | --- |
| Director: | Adam Wingard, Eduardo Sanchez, Jason Eisener, Gareth Evans, Simon Barrett, Gregg Hale, Timo Tjahjanto |