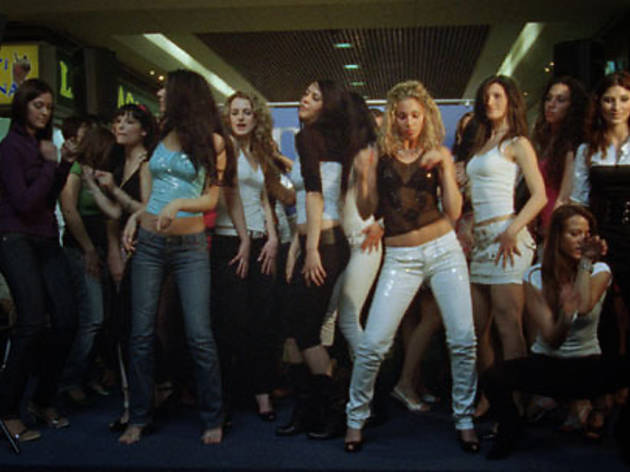 Their dancing is trashy, overheated, disturbingly desperate. These women are not having fun. As seen in the stunning, eerily atmospheric exposé Videocracy, a freeform look at Italy's celeb-obsessed culture, they're actually auditioning to become veline—and it shouldn't surprise anyone to learn that Silvio Berlusconi's bust-friendly media empire has a specific word for these starlets hired to strut, strip and stand silently next to talk-show hosts.
Despite a prestigious world premiere at 2009's Venice Film Festival, Erik Gandini's Fellini-esque nightmare of a doc has taken a fair amount of political heat in Italy for its indictment of Berlusconi's universe. It pivots (as does the prime minister himself) from the television studio to the legislature and back. One of the mind-boggling clips unearthed here is that of the producer-politico's first TV success: a '70s quiz show that rewarded correct answers with the sight of a housewife shedding her clothes. It feels like a major excavation—the Rosetta stone by which we might come to understand Jersey Shore.
Hedonism leads to a new kind of fascism, and only cynics will be able to discount a talent scout's gushing about Mussolini. But Videocracy has even more to show; this is a hell of many circles. (To Gandini's credit, his quiet, synth-scored movie never feels like it's hectoring.) We shift from dance clubs and billionaire resorts to a profile of the country's reigning king of gossip, Fabrizio Corona—tall, stylish, heavily tattooed. His paparazzi squads earn him massive resentment; then he becomes a star himself after being imprisoned for extortion. The documentary slows to focus on this cryptic man, both exploiter and martyr, a mystery even when he's completely nude in the shower. Corona, it's suggested, is the new power broker—maybe even the new Berlusconi. Your heart sinks. As ever, Italy is years ahead of everyone.
Release details
| | |
| --- | --- |
| Rated: | NR |
| Release date: | Friday February 12 2010 |
| Duration: | 85 mins |