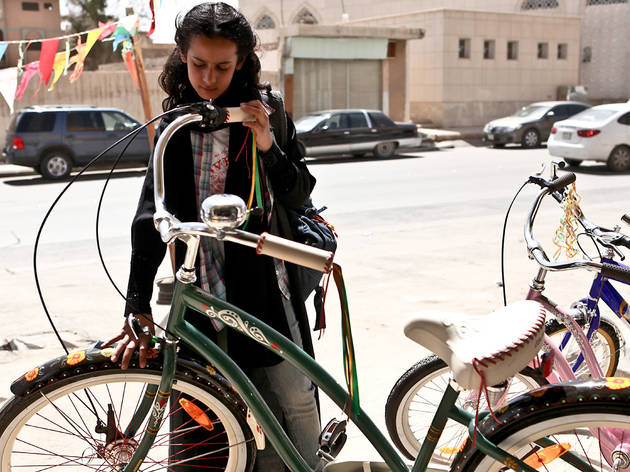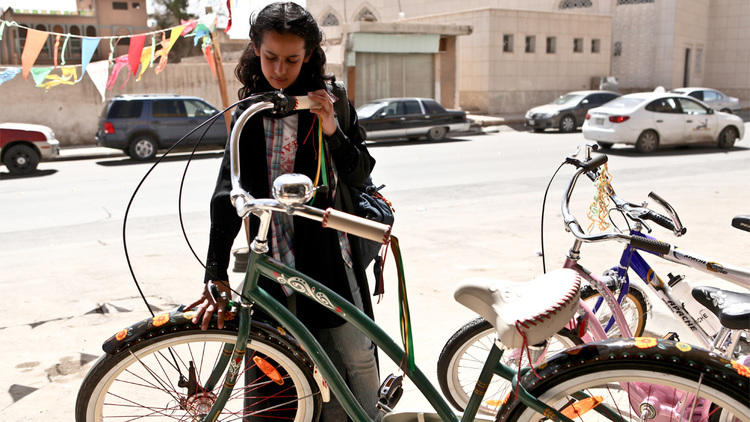 The story is simplicity itself: A young girl wants nothing more than to buy a bicycle. But the rebellious Wadjda (Waad Mohammed) is up against plenty of obstacles, and not just the monetary kind. She lives with her mother (Reem Abdullah) in the Saudi Arabian capital of Riyadh, a place where the equality lines between men and women are especially stark. Wadjda is already pushing the limits at her all-girls school by wearing bright-laced Converse sneakers instead of plain black loafers; a bicycle would be, to most eyes, another step toward disgrace. Not that that'll stop her.
Documentarian Haifaa Al-Mansour's fiction debut is suffused with much of the same culturally ingrained anxiety that dogs her plucky lead character. An Arabic-German coproduction, it is a rare movie shot entirely in Saudi Arabia, which has no cinema industry to speak of, and the first feature by a female filmmaker from that country. Forbidden from mixing with the men in her crew, Al-Mansour often directed via walkie-talkie from the back of a van.
Plenty of films have similarly colorful production histories and die onscreen, done in by their own well-intentioned didacticism. What sets Wadjda apart is Al-Mansour's confidently light touch (this is one of the most outwardly cheery jeremiads ever made), which allows the uneasy existence between the young protagonist and the stringent society in which she lives to gradually gain in force. Even as the narrative treads the expected—a little hysterical drama between mother and daughter here, a climactic Koran recital contest there—you're all too aware of underlying tensions. (Among the peripheral details that cast a pall are a construction worker's semiserious rape threat and a department-store advertisement, lingering in the background of a parent-child shopping scene, defaced to cover up a female model's bare skin.) There's lots of crowd-pleasing triumph at the end of Wadjda's gauntlet, but it's the implied tragedy of her future that cuts like a knife to the heart.
Follow Keith Uhlich on Twitter: @keithuhlich
Release details
Rated:
PG
Release date:
Friday September 13 2013
Duration:
98 mins
Cast and crew
Director:
Haifaa Al Mansour
Screenwriter:
Haifaa Al Mansour
Cast:
Reem Abdullah
Waad Mohammed
Abdullrahman Al Gohani