Walk Hard: The Dewey Cox Story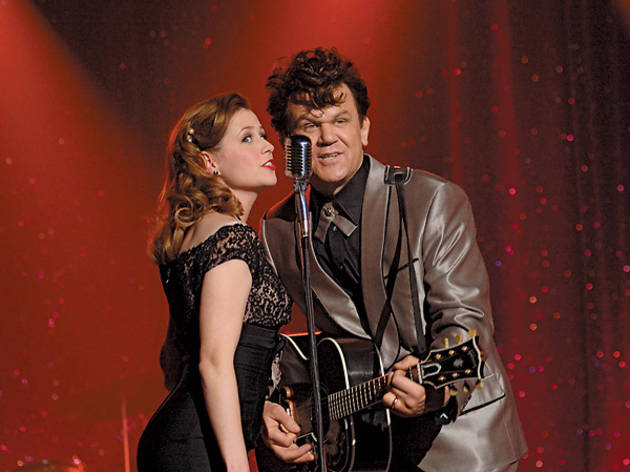 Dewey Cox (Reilly) goes through the stations of the pop-music-biopic cross: the judgmental parent, the song inspired by a casual remark, the slide into substance abuse, the creative impasse and the late-career moment of affirmation. Screenwriters Judd Apatow and Jake Kasdan send up every cliché of the genre. Of course, they also include a machete accident played for laughs, a bit of gratuitous full-frontal male nudity—and a monkey. The result is an amusing but uneven mesh of clever material (the songs are dead-on parodies) and Scary Movie–style joke-throwing.
Dewey rises fast in the '50s playing "the devil's music" and goes through more career transformations than Zelig. That leads to some funny stuff (his Bob Dylan phase is particularly sharp) and some less so (Dewey's encounter with Elvis is thrown away). Reilly plays it all with gusto, showing off a far richer singing voice than his Chicago turn suggested.
Too often, though, Kasdan and Apatow go broad when they don't have to, trying too hard to position Reilly as another Will Ferrell (he spends an alarming amount of the movie in his underwear). But Reilly's smarter than that—and so, intermittently, is this film.
Release details
Rated:
R
Release date:
Friday December 21 2007
Duration:
95 mins
Cast and crew
Director:
Jake Kasdan
Screenwriter:
Jake Kasdan, Judd Apatow
Cast:
John C Reilly
Jenna Fischer
Kristen Wiig
Tim Meadows
Raymond J Barry
Harold Ramis
Jack Black
Paul Rudd
Jason Schwartzman
David Krumholtz
Justin Long