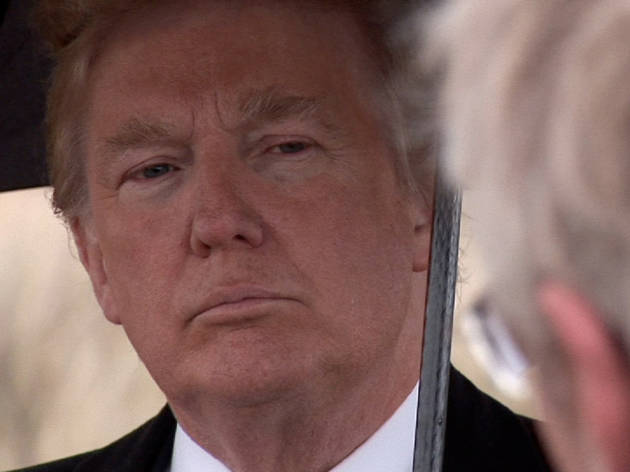 Bound to surprise absolutely no one, Donald Trump comes off like a shameless boor in this slack, hiss-jerking doc about his efforts to build a luxurious golf resort on hundreds of pristine acres of the Scottish coast. In his well-moneyed way are a collection of crusty but adorable holdouts with their chicken coops and rustic sheds; Trump sees only a "slum" spoiling his potential guests' view. It's a bit like 1983's underdoggish Local Hero—that indie was shot in the same place, Aberdeen—but in this film, director Anthony Baxter has only varying flavors of sourness to offer, as furious homeowners are sold out by their political representatives, who prioritize a massive infusion of cash and jobs.
Secure in its righteous rage, You've Been Trumped never stops for a second to seriously explore the economic points of view, even ones that might benefit the community. Instead we get shots of Trump ogling a comely local woman ("She could be good for sales") and, later on, plenty of footage of heaps of dirt. Will it make you root for the bad guy? Not quite. Remember, it's all in the service of golf, that most flagrantly classist of pastimes. (And does this gorgeous countryside need another links?) But the tools of activist filmmaking have been wielded with sharper insight—Michael Moore is an obvious, out-of-reach influence—and you sense the real story is about to begin at the close. The finished course opened last month.
Follow Joshua Rothkopf on Twitter: @joshrothkopf
Release details
| | |
| --- | --- |
| Release date: | Friday August 3 2012 |
| Duration: | 95 mins |
Rating Breakdown
5 star:

2

4 star:

0

3 star:

0

2 star:

0

1 star:

0
Neither this film nor Local Hero were filmed in Aberdeen. The disputed land is north of Aberdeen and Local Hero was filmed in Pennan, a good deal further north. Being a local boy I am perhaps a little biased but I found the film to be a very articulate and balanced portrait of a disgraceful and sordid state of affairs. Trump is a bully, that is no surprise, but the way the Scottish government cowed before him was nauseating. Alex Salmond - for shame. I also think this review says nothing about what an excellently made and often moving film this is. Wait a minute... Time Out, New York. Ah. I see... Comfortable in the Don's pocket Mr. Rothkopf?
Economic point of view? Alex Sammond needs to fund his independence war chest.. How else is he going to be able to call himself king/prime minster/president/sheik/ whatever of Scotland? quick sell the family jewels to a complete plonker.... and sack the local councillors who complain..