The best new craft beers to try May 2016
The best new craft beers to try this May, with America's best brewers bringing spring flavors to their beers
New craft beers to try this May
1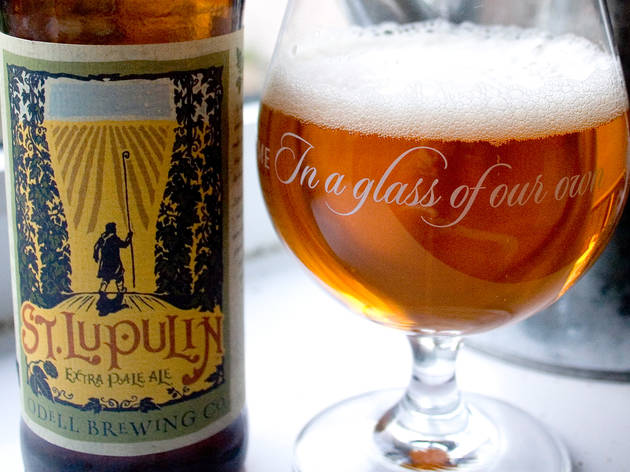 St. Lupulin, Odell Brewing Company, Fort Collins, CO
This isn't a new release, per se, but it is being released in a new format. You'll forgive the use of the technicality when you have your first sip of this dry-hopped pale ale out of a can or from a glass. Odell broke into the canning game last year, and this seasonal, which is loaded with floral and resin notes, is the first benefactor. St. Lupulin—who, according to brewery legend, tends the hops during the summer—will stick around until September. Don't wait that long to grab one of these 12-packs.

Photograph: Courtesy CC/Flickr/Mark Fletcher
2
Biere de Provence, Dogfish Head Craft Brewery, Milton, DE
Herbes de Provence are a blend of dried herbs typically used in the cooking of, you guessed it, Provence, France. Dogfish Head is harnessing the flavor of this culinary addition in a new saison launching this month. The crisp, complex, yeast-driven beer incorporates lavender, bay leaf, marjoram and chervil (French parsley), so beyond the esters typical of the style, expect some fruity, floral, and anise flavors to find their way in, too.
3
Sixteen Counties, Allagash Brewing Company, Portland, ME
Sixteen Counties, which was released in April, pays homage to Maine's agricultural tradition. The Belgian pale ale incorporates malts grown on farms across the state, including malted barley, unmalted wheat, and oats as well as wet hops from various hopyards in the Pine Tree State. Look for floral, candied citrus and caramel notes. This is Allagash's first new year-round offering in two years, and it'll hit tap lines on draft and shelves in 750ml corked and caged bottles.
4
Little Brett, Allagash Brewing Company, Portland, ME
For the first time, Allagash will release a Brettanomyces-fermented beer in 12oz bottles. Little Brett is hopped and dry-hopped with Mosaic hops, which offer a range of flavor profiles (anywhere from pepper to bubblegum to tropical fruit to earthiness to citrus rind). It's fermented with Allagash's house Brett strain, which lends big pineapple and fresh cut grass notes to the beer. Be on the lookout and drink this fresh; you'll want to capture those juicy hop flavors that will be so complementary to the yeast.