Rent these cozy Airbnbs around the country to escape the cold
From a wood-paneled cabin to a seaside retreat, these are the coziest Airbnbs to rent out in the U.S. this winter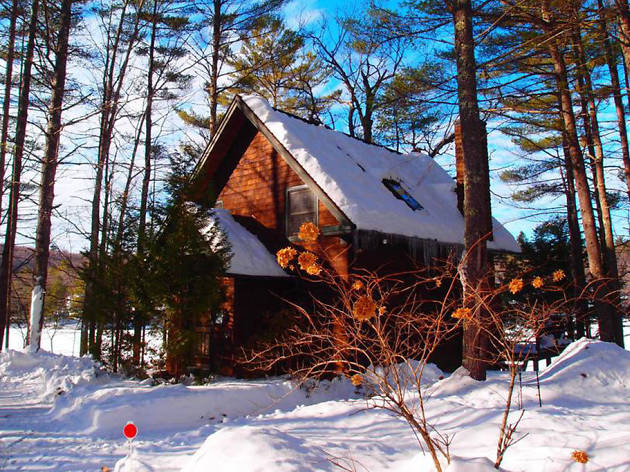 Winter is here, and whether you're looking to escape the cold or embrace it, it's a good time to get away and enjoy a mini-vacation. Set out from home to seek out the best cheap eats in every state or the best cities to visit for the holidays in the U.S.; but ignore the spookiest haunted hotels in America, because you're going to want to stay in these ultra-cozy Airbnbs. Whether you're a skier looking to embrace all that is winter or you get your thrills sitting by a romantic fireplace, you're sure to love these cozy Airbnbs to rent out this winter all around the country.
Cozy Airbnbs to rent out around the country
1
Photograph: Airbnb
Cozy A-frame cabin in the Redwoods in Cazadero, CA
The perfect winter retreat for a writer, artist or musician—or a secluded getaway for two—this adorable, wooden A-frame cabin is located about two hours north of San Francisco and affords plenty of privacy. Cuddle up by the wood-burning stove and gaze out the enormous entryway windows at the falling snow, or throw an LP onto the record player while you browse the cabin's enormous section of cookbooks and decide what to make for dinner. Up a short set of stairs is the lofted full-sized bed and some instruments for plucking. Want to stretch your legs? Take a stroll along the beautiful Sonoma Coast, a ten-minute drive away.
2
Photograph: Airbnb
Cozy and charming cottage in Biscayne Park, FL
If you're looking to join the snowbirds and migrate south this winter, this sun-drenched Miami cottage is just the place for you. A button-sized 500 square feet, the airy space boats a new queen-sized bed, some kitchen basics and cable TV. The cottage's real draw, however, lies outside its door: A lush backyard outfitted with a pergola, a palm-thatched tiki hut and a dreamy pool flanked by lounge chairs. Stock the mini-fridge with cold beer and bring a book: it ain't really winter in Biscayne Park.
3
Photograph: Airbnb
Lake views cottage in Stateline, NV
Located right near the classic winter destination of South Tahoe, this ultra-comfy two-bedroom cabin is glassed in all around with huge windows affording stunning snow-capped views of the nearby ski mountains and Lake Tahoe itself. Pile the plush wraparound sofa with blankets and clutch a mug of cocoa in front of the fireplace, cook up a hearty stew or soup in the modern kitchen, or bundle up for a snowy hike on nearby trails or some trips down the slopes. At night, slip into the bubbling hot tub and gaze up at the star-strewn sky.
4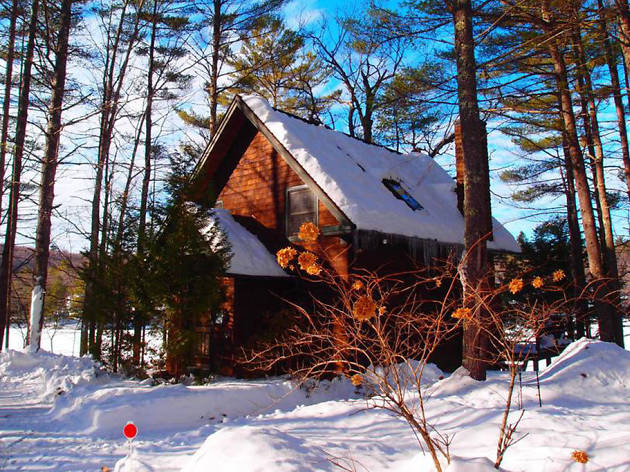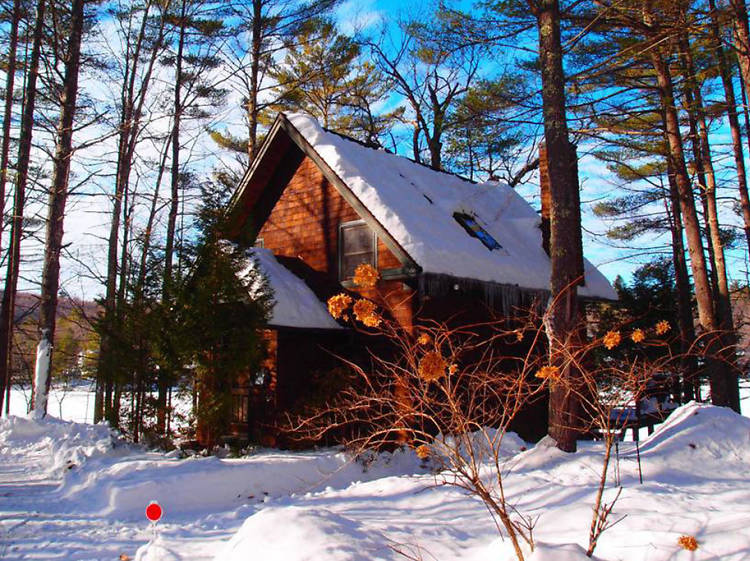 Photograph: Airbnb
Cozy lakefront cabin in Denmark, ME
New England is at its most beautiful in the winter, when snow is falling softly on the pines and life shifts to a different pace. Slow down at this rustic cabin in the woods, which affords stunning views of the Shawnee ski slope and the lake out front. Inside, you'll find three bedrooms, a wood-burning fireplace and a fully equipped kitchen. Take advantage of the beautiful scenery by skiing or snowshoeing at nearby Shawnee, create your own skating rink on the lake out front or grab a pole and spend some time ice fishing.
5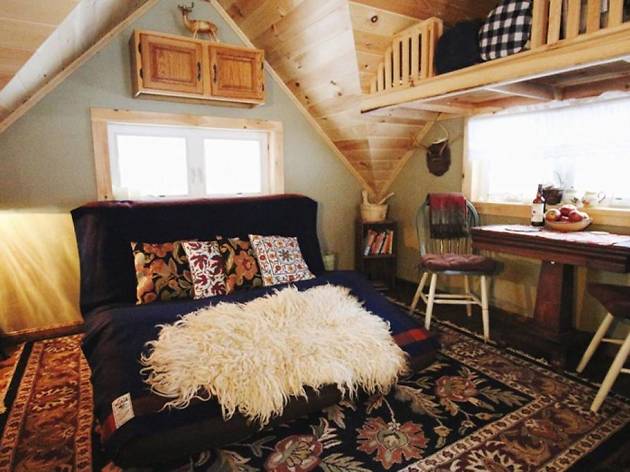 Photograph: Airbnb
Cozy Vermont cabin and sauna in Marshfield, VT
This uber-"hygge" Nordic-inspired cabin is located 30 minutes north of Montpellier, deep in the woods where things like work and social media will suddenly become distant memories. Sink into the cozy inside the dramatically peaked, 144-square-foot tiny cabin, where there's not much besides a queen-sized futon, a small cooking space and a tiny table for enjoying coffee, tea or hot chocolate. Warm up in the sauna, build a fire pit outside and make sure to pack a warm coat: the only available bathroom is an outhouse.
6
Photograph: Airbnb
Old school beach cottage in Carolina Beach, NC
A less snowy choice for winter is this sweet beach cottage in Carolina Beach, located just steps from the ocean. There's room for the whole family inside this updated but original 1950s home, equipped with two bedrooms that can sleep up to five guests. Handsome touches like dark wood trim and hanging lamps abound, and the kitchen boasts a retro mustard-yellow stove. Pack your bathing suits and swim or lounge at the nearby beach; play some basketball on the hoop outside; or enjoy an outdoor shower. To wind down, hang out in the cozy living room set with plenty of comfy couches.
7
Photograph: Airbnb
Quirky luxurious home in Nederland, CO
Tucked into the mountains just southwest of Boulder, hippie outpost Nederland has long been a haven for quirky outdoors types looking to buy a crystal, sign up for some acupuncture and set out on one of the many amazing alpine hikes that originate in the area. Gather your friends and head to this three-bed, two-bath home that sleeps 11: You all can cozy up in front of the wood-burning stove, cook up a warming meal in the enormous kitchen and, at night, sink into the jacuzzi and gaze up at the starscape. Ringed with expansive decks on both levels, the house affords stunning views of the snow-dusted mountains.
8
Photograph: Airbnb
Mountain and lake view cabin in Irwin, ID
Located at the southwest edge of dramatic Grand Teton National Park, this secluded cabin is the perfect place to get away from it all and truly immerse yourself in nature. The space is comfortably appointed with one queen bed, a cozy living room and a dining area overlooking an 18-mile lake. Surrounded by 12 acres of aspen and spruce as well as the towering Tetons, it's the perfect place to bundle up at night before heading out into the national park by day and enjoying a wealth of hiking, snowshoeing and ice fishing.
9
Photograph: Airbnb
Cozy Catskill escape in Bloomingburg, NY
The Catskills north of New York City take on a magical feel in the winter, when the region's lakes freeze over and its mountain forests pile with snow. Use this wood-paneled Bloomingburg suite as a base for snowshoeing, cross-country or downhill skiing and plenty of other outdoorsy winter activities. With direct access to the Shawangunk Ridge Trail System, outdoorsy types will delight in wintry mountain views. Cook a delicious meal in the eat-in kitchen or drive into nearby Wurtsboro and settle into a booth at the charming Wurtsboro Diner.
10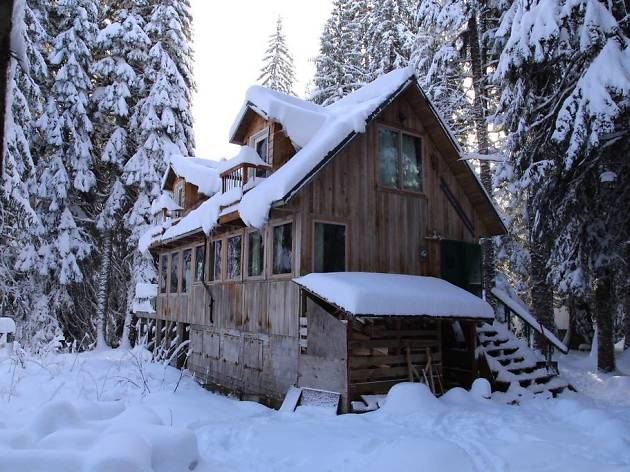 Photograph: Airbnb
Barlow Cabin in Government Camp, OR
This classic wood cabin overlooking Trillium Lake can accommodate up to ten guests between its three bedrooms and affords easy access to the area's extensive hiking, snowshoeing and cross-country ski trails. With a perfect view of dramatic Mt. Hood, the cozy property boasts a glowing wood-burning stove, a full kitchen and a comfy sitting area. The cabin's piece de resistance is its outdoor electric cedar sauna: grab a bottle of wine or a mug of cocoa and luxuriate under the stars.
11
Photograph: Airbnb
Captain's Cottage by the beach in Long Beach, WA
Enjoy the peaceful beauty of Washington State's stunning coastline when staying in this charming 1905 cottage, painted in bright tones of purple, teal and turquoise. The color pattern continues inside, with modern furniture in the same shades, and plenty of quirky maritime decor like a steering wheel hung above the fireplace. With one bedroom and a futon, four guests can sleep here and enjoy the area's gorgeous walks along the coastline as well as hiking or snowshoeing inside the nearby wetlands of Willapa National Wildlife Refuge. On clear nights, bundle up and build a fire in the pit outside, all the better to enjoy the stars above.
12
Photograph: Airbnb
Postcard perfect in Carmel-by-the-Sea, CA
Another choice for the snow-averse looking to escape—not embrace—the cold this winter, this charming whitewashed cottage by the sea lives up to its name as postcard-perfect. Impeccably clean, bathed in natural light and accented with colorful touches such as navy-striped pillows and delicately blown glass, the cottage sleeps two in a soft queen-sized bed. With its own private patio with seating area, the studio is located just minutes from the beaches, cafes and shops of posh Carmel. Take an easy stroll along the sea or drive to the nearby state reserves of Point Lobos and Garrapata for more intensive hikes.
13
Photograph: Airbnb
Cute and quirky beach bungalow in Tybee Island, GA
Forget about winter altogether at this adorable, colorful bungalow on Georgia's Tybee Island, a refuge located just a short drive from beautiful, historical Savannah. The one-bed, one-bath bungalow is the perfect spot for two, with a nicely appointed kitchen, a private patio with propane grill and dining area bathed in natural light. It's just a short walk to the beach, where you can choose from activities such as kayaking and jet skiing, bike riding, dolphin-watching tours and much more. Enjoy the area's excellent local seafood by picking up the catch of the day at Lazaretto Creek Seafood and grilling it up back at home.
14
Photograph: Airbnb
Secluded lakeside log home in Ely, MN
Ely, Minnesota is one of the state's gateways nearby stunning Boundary Waters, a one million plus-acre wilderness area on the border of Canada. This secluded log cabin is the perfect place to wait out winter, as soft snow piles up outside its many windows. The heart of the four-bed, three-bath home is its glowing hearth, a wood-burning stove stacked high with firewood on either side and surrounded by cozy, comfy chairs and rockers so that everyone can enjoy the heat and flame. Up to 13 guests can take advantage of the cabin's nearby wintry activities, including snowmobiling, ski-boating and hiking. Huge windows all around afford lovely views of the frozen lake outside.
15
Photograph: Airbnb
Woodsy retreat at Lake Michigan in Sturgeon Bay, WI
The people of Wisconsin are great lovers of the outdoors, no matter what the season: get in on the fun at this secluded guesthouse in the woods, a spacious, sunny studio for two with a high cathedral ceiling and two walls of all windows. With a full kitchen, a comfy sitting area and a forested backyard, the house is located near Door County's excellent outdoor activities, including hiking and cross-country skiing trails. The area is enjoying a surprising fine food renaissance: for an excellent meal, check out nearby restaurants such as Wickman House, Waterfront Restaurant and Parador.