The 15 most scenic bike trails across America
Break a sweat and discover rugged mountains and stunning coastlines on two wheels on the best bike trails in America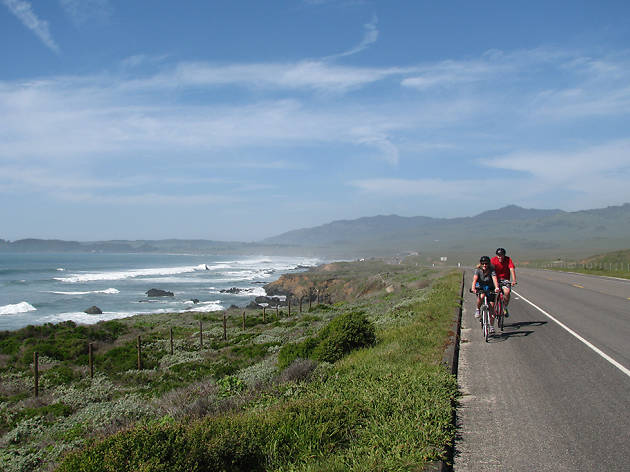 The best hiking trails in America may take you trekking past some of nature's magnificent vistas, but biking is the way to go if you're looking to cover more ground while breaking a sweat. Whether you're seeking a leisurely spin or an adrenaline-pumping activity (in that case, you'll also want to check out the best extreme outdoor adventures in America), these bike trails across the U.S. will provide some serious payoff in the form of jaw-dropping views. Clearly, embarking on the most scenic train rides in America isn't the only way to experience all the beauty our country has to offer.
Most scenic bike trails across America
1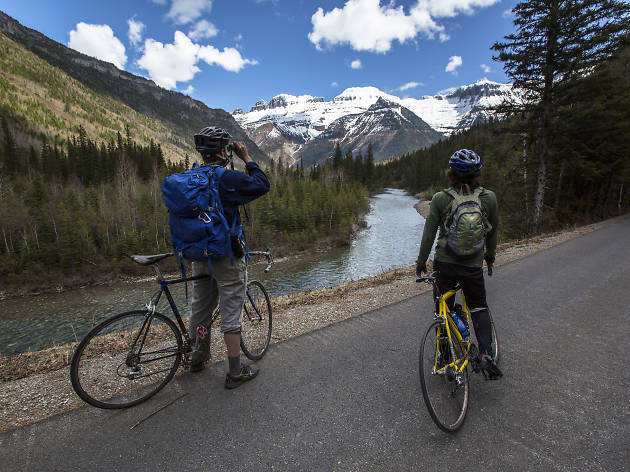 Going-to-the-Sun Road, Whitefish, MT
This 32-mile route through Glacier National Park is a bucket list item for many serious cyclists, unmatched for its Tour de France–caliber climbs and natural beauty. From spring through early fall, riders climb almost 3,300 feet from the Apgar Visitor Center to Logan Pass, whizzing past the cascading Weeping Wall waterfall, pristine Lake McDonald and snow-capped Heavens Peak along the way.

For more attractions in Montana, click here.
Photograph: Courtesy CC/Flickr/NPS Climate Change Response
2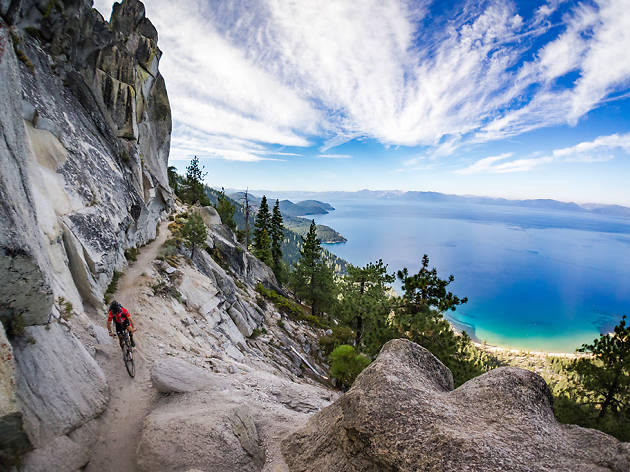 Flume Trail, Lake Tahoe, NV
A fear of heights won't fly on this trail perched 1,600 feet above the blue waters of Lake Tahoe, but the incredible views are worth the jitters. Riders set off from Spooner Lake State Park and break a sweat climbing the smooth canyon road up to Marlette Lake. The Flume Trail is the reward at the top—4.5 miles of singletrack, providing breathtaking views of Sand Harbor and the Rockies.

For more attractions in Lake Tahoe, click here.
3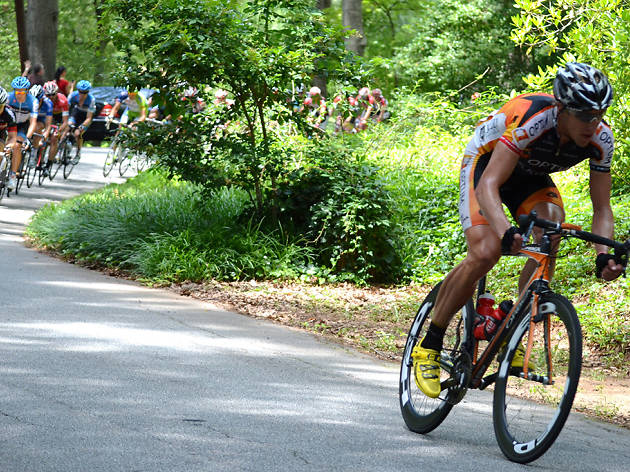 Greenville Health System Swamp Rabbit Trail, Greenville, SC
A top-notch bike trail is a welcome perk in most towns, but this one is truly the hub of its community in the foothills of the Blue Ridge Mountains. Running nearly 20 miles along the Reedy River on an old railroad bed, the paved route brought the once-sleepy town to life and continues to draw cyclists of all ages and skill levels to the stretch between Greenville and Travelers Rest.

Fore more attractions in Greenville, click here.
Photograph: Courtesy CC/Flickr/Glory Cycles
4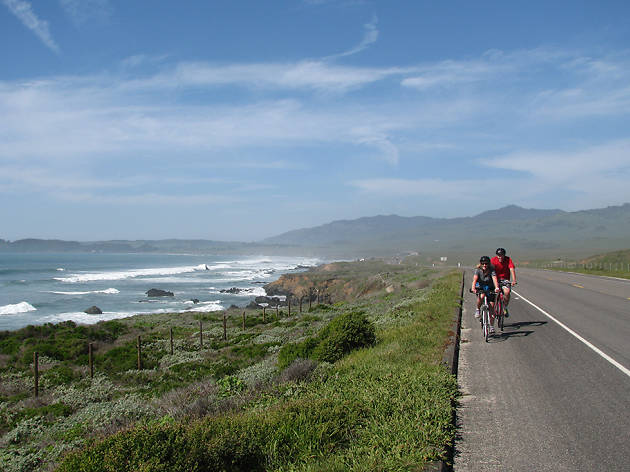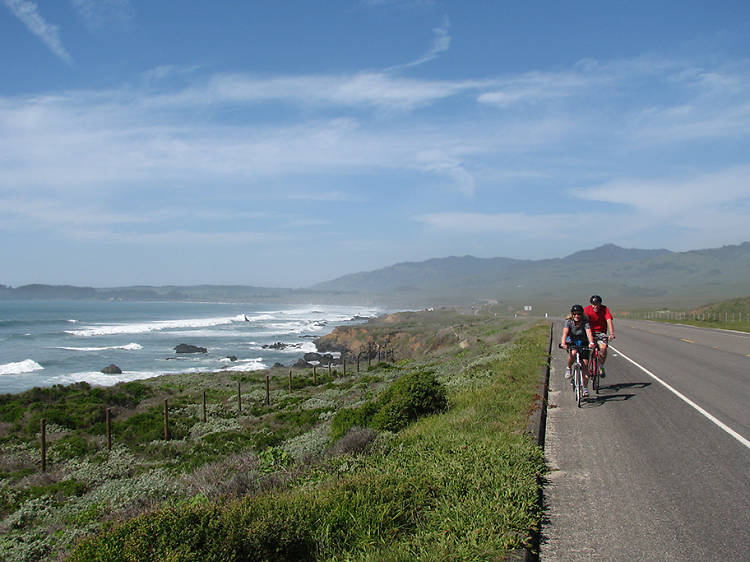 Highway One, Big Sur, CA
Hit Highway One on two wheels to take in the best views of California's Pacific coastline. Map out a route between Carmel and Cambria that suits your skill level and sightseeing goals—Ragged Point and Hearst Castle are prime water-break spots—and cruise along the cliffside road, with the surf crashing below. Beginners be warned: you'll be cozied up to car traffic on a few narrow shoulders.
5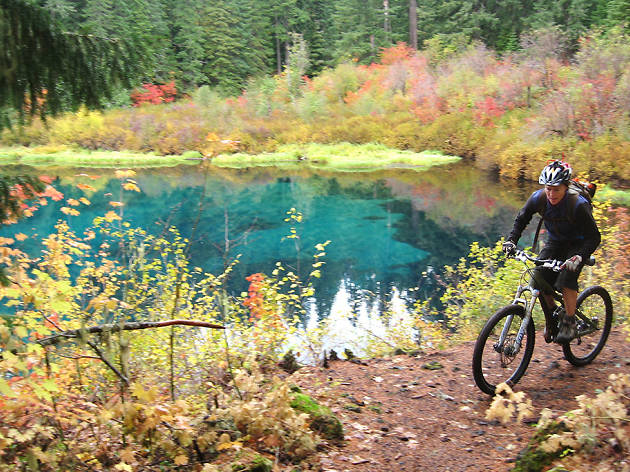 McKenzie River Trail, Bend, OR
Beautiful deep forest, moss and ferns give riders a serious dose of greenery along this woodsy route in the Cascade Mountains. Spend the day tackling the 25.4-mile, mostly downhill trail and traversing log bridges along the chilly McKenzie River. The trail system lets riders choose their own adventure, opting in or out of technical spots along the way—either way, stop to feel the mist coming off of Sahalie Falls.

For more attractions in Bend, click here.
Photograph: Courtesy CC/Flickr/Dave H.
6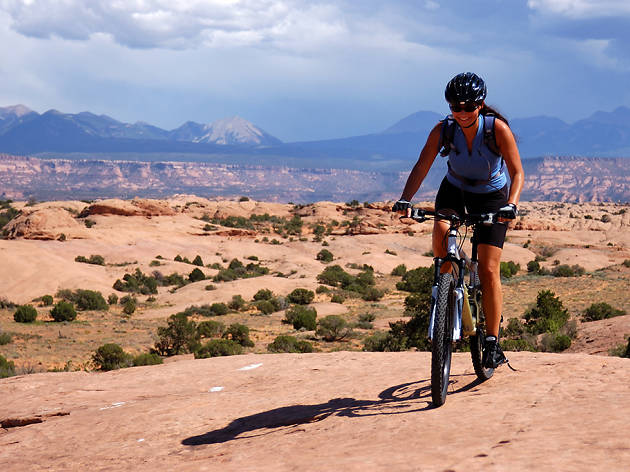 Captain Ahab Trail, Moab, UT
This 4.3-mile dusty canyon trail is the stuff of Jeep commercials, with rust-colored canyons and blue sky as the stunning backdrop for advanced bikers. Captain Ahab branches off from the popular Amasa Back trail, challenging its contenders with technical slickrock portions and big climbs along the Colorado River that open up into quick and flowing flatter sections.

For more attractions in Moab, click here.
7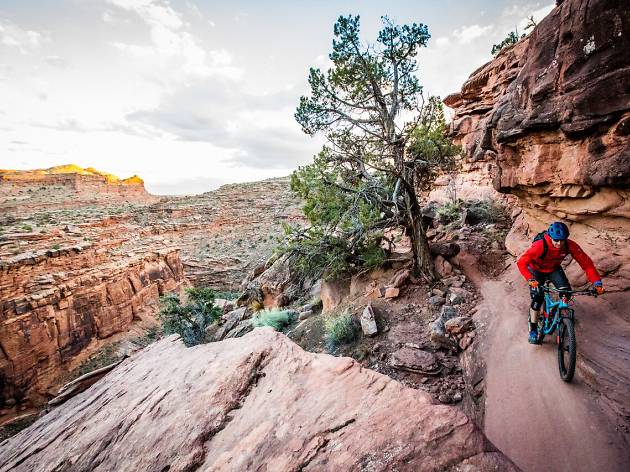 Trail 401, Crested Butte, CO
A lung-burning, five-mile climb up to Schofield Pass can be a rough welcome for novice riders, but once you've trekked through dense trees to the trail's high point (at a whopping 11,351 feet), the singletrack opens up, revealing killer 360-degree views of the rugged Elk Mountains. The 13.6-mile route's fast alpine descent through fields of wildflowers will have cyclists feeling serious Sound of Music vibes.

For more attractions in Colorado, click here.
Photograph: Courtesy CC/Flickr/Zach Dischner
8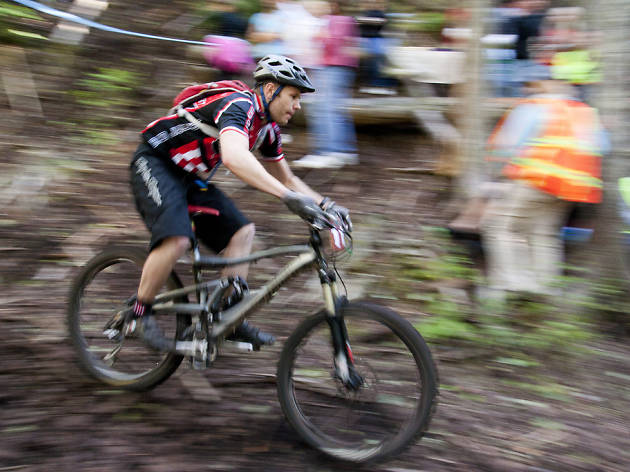 Copper Harbor Trails, Keweenaw Peninsula, MI
Michigan's Keweenaw Peninsula is a magnet for active travelers and a real hidden gem for avid mountain bikers. Thirty miles of twisty singletrack trails outfitted with cedar-planked bridges and boardwalks let intermediate riders zip through white pine woods and climb up to 1,300 feet in elevation, where they're rewarded with views of Lake Superior stretching to the horizon.

For more attractions in Michigan, click here.
Photograph: Courtesy CC/Flickr/Robert Emperley
9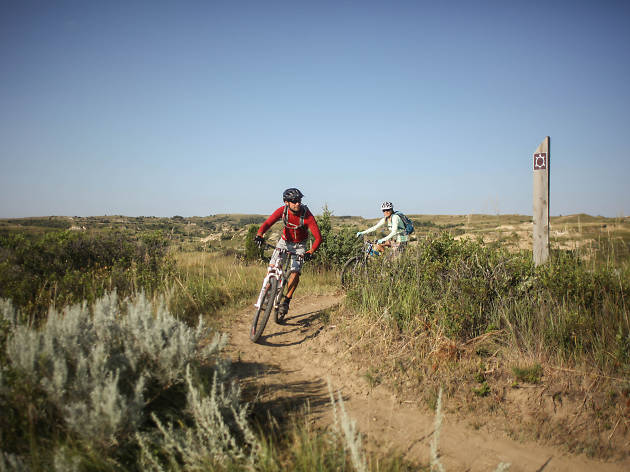 Maah Daah Hey Trail, Medora, ND
If the Midwest brings flat farmland to mind, this beloved trail system in the Badlands of North Dakota will certainly surprise you. Riders reach an elevation of 2,700 feet on the namesake route that runs 97 miles across high ridges, steep buttes and rolling prairie. Keep an eye out for antelope, prairie dogs and coyotes on the trail that takes you across the Little Missouri River and up to Devil's Pass, where a stellar 360-degree lookout awaits.
Photograph: Courtesy CC/Flickr/Roderick Eime
10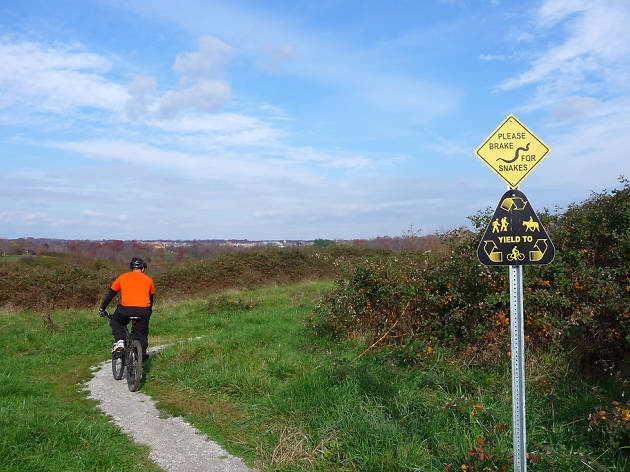 Laurel Mountain Ride, Brevard, NC
Mountain bikers with a need for speed can shoot through laurel thickets on this steep route starting on the Laurel Mountain trail. Get your heart pumping climbing up Black Mountain and then follow a connector to the Pilot Cove trail. The Pilot Rock descent sends brave riders flying down 1,600 feet of rocky and remote terrain, with glimpses of Bradley Creek along the way.

For more attractions in North Carolina, click here.
Photograph: Courtesy CC/Flickr/TrailVoice
11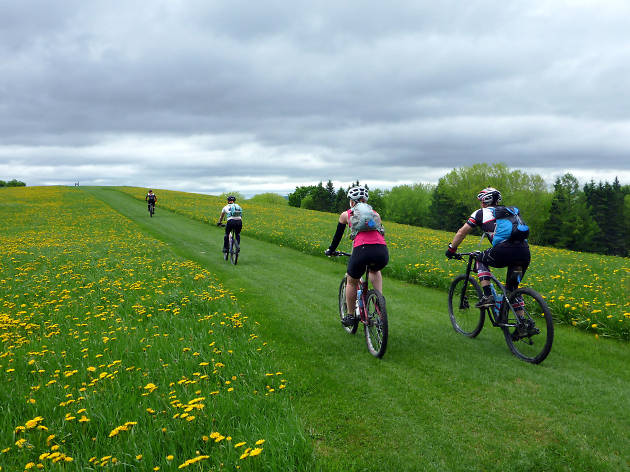 Kingdom Trails, East Burke, VT
Get introduced to all types of terrain on the Darling Hill Loop in the woodsy hills of Vermont. It will cost you $15 a head to access the private land, but the more than 150 miles of trails are open to kids, beginners and seasoned riders. Routes wind beneath the canopy of tall trees, across ladder bridges, and up a grassy incline to picturesque Heaven's Bench—bring a trail map so you know what you're in for on cheekily named trails like Sidewinder and Troll Stroll.

For more attractions in Vermont, click here.
Photograph: Courtesy CC/Flickr/Active Steve
12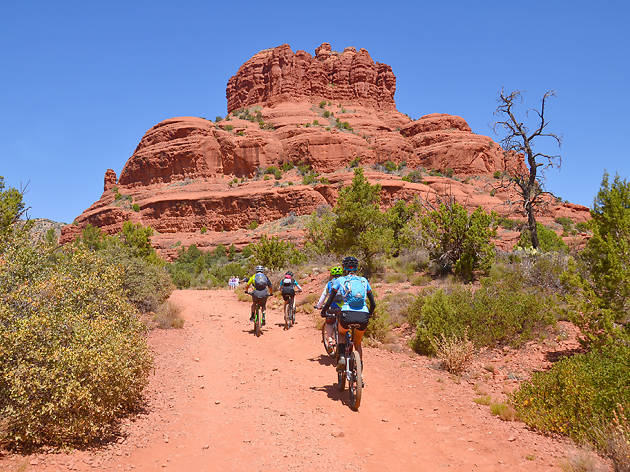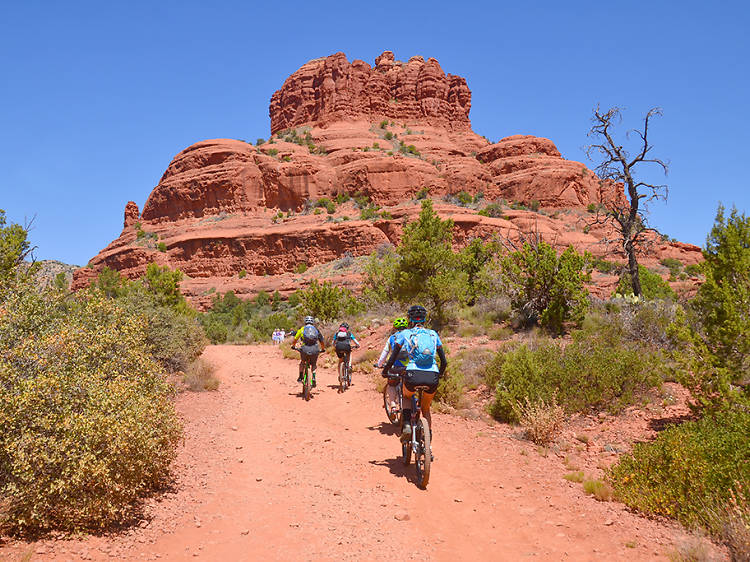 Hiline Trail, Sedona, AZ
Explore the stunning desert scenery, starting with an uphill pedal along Slim Shady Trail. The narrow, exposed Hiline Trail runs 3.1 miles from the top of the mesa along the edge of the red rocks, giving technical riders plenty of chances to ogle at incredible majestic buttes and monoliths. Be prepared for slickrock portions and some sharply descending chutes before capping the ride at Baldwin Loop.

For more attractions in Sedona, click here.
13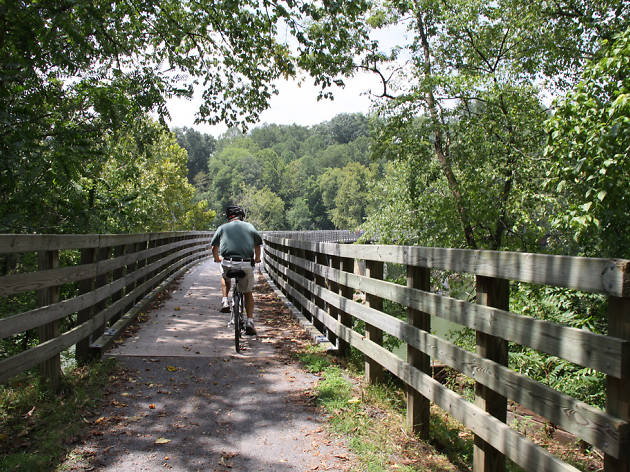 Virginia Creeper National Recreation Trail, Damascus, VA
Cyclists looking to tackle a low-key course will dig this rambling rail-trail connecting Abingdon and Damascus. The 34-mile stretch is supposedly named for the way trains once crept up Whitetop Mountain due to it's 3,600-foot elevation, but visitors can shuttle their bikes to the top and roll down the slope for a pleasant 17-mile leg past old railroad trestles and through serene wooded sections.

For more attractions in Virginia, click here.
Photograph: Courtesy CC/Flickr/Eli Christman
14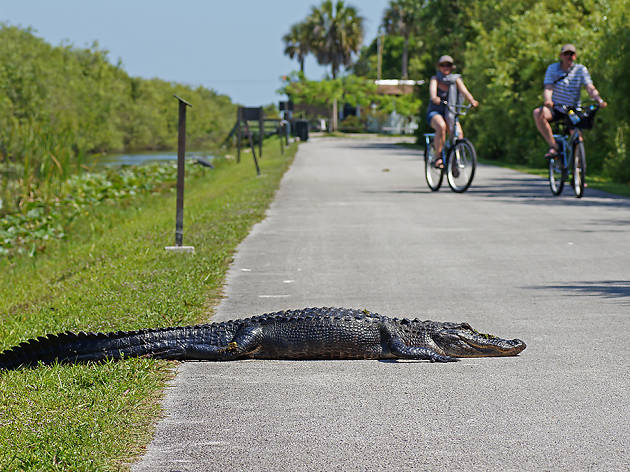 Shark Valley Trail, Everglades National Park, Miami, FL
Skip the tram ride and embark on your own ecotour through Everglades National Park on two wheels. The well-kept trail covers a 15-mile loop through the Shark Valley section of the park, where you're sure to experience up-close encounters with gators, wading birds, turtles and more wildlife. A 45-foot observation deck marks the halfway point, where riders can take a break to enjoy the quiet beauty of the wetlands, grassy prairie and beyond.

For more attractions in Miami, click here.
15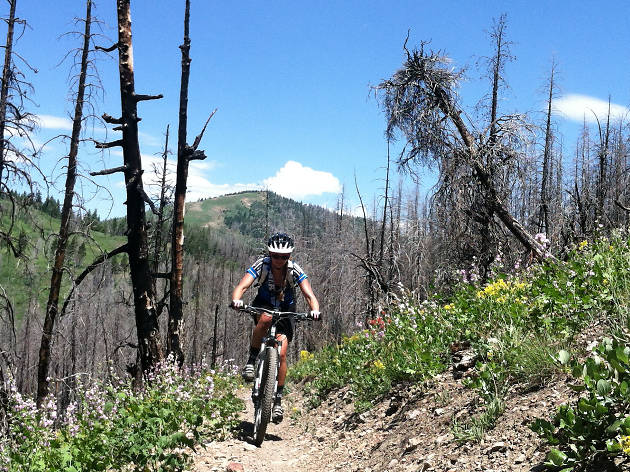 Forbidden Fruit, Sun Valley, ID
Mountain bikers who crave rollercoaster-like descents are drawn to this unique flow trail west of Adam's Gulch. The route is loaded with jumps, dips and berms to keep riders in constant movement down the 1.3-mile course. Brakes and pedals hardly need to be used as bikers run laps on the wild ride, adding to the feeling that they're moving on adrenaline alone.

For more attractions in Idaho, click here.
Photograph: Courtesy CC/Flickr/gefevans