Cloudy With a Chance of Meatballs (U)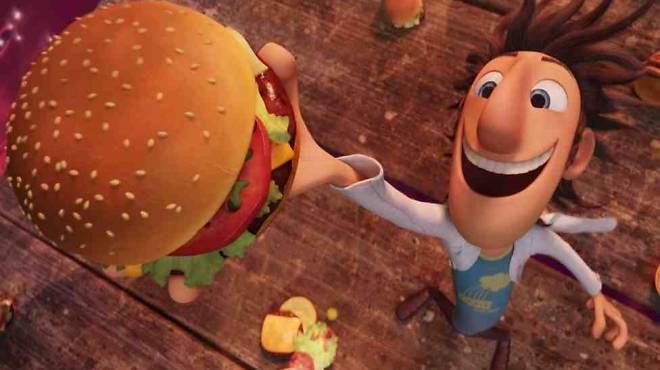 Time Out rating:
<strong>Rating: </strong>4/5
User ratings:
<strong>Rating: </strong>4/5
Rate this
Time Out says
Tue Sep 15 2009
The Pixar crew have been smugly ensconced as kings of their computer-animated castle for a while now, secure in the knowledge that while the other animation houses – with their sass-talking sloths and farting ogres – might amuse the little 'uns for a couple of hours, they'd never trouble the pantheon of cartoon greats. Sony Pictures's 'Cloudy with a Chance of Meatballs' may not scale the artistic heights of a 'Finding Nemo' or 'Wall-E', but it's the most satisfying and original non-Pixar CG animated movie to hit screens in a while.

On a remote island principality in the mid-Atlantic, the populace have been living on sardines since the canned-fish market dried up. So plucky young scientist Flint Lockwood, inventor of overactive hair-unbalder and spray-on shoes (which you can never remove), commits himself to solving the problem. His answer is a machine which turns water into food, creating anything from sliced pizza to ice cream with toppings. It's a success – until a freak accident happens, the machine goes berserk, and it starts to rain cheeseburgers.

The makers of the film are not remotely interested in pop-culture references or celebrity cameos: the voice cast favours stalwarts like
Anna Faris
and
James Caan
over inappropriate A-listers. Banishing such petty distractions frees director
Phil Lord
to focus on more important issues, like story and character: the plot is wonderfully twisty, building to an eyeball-frazzling culinary climax of truly epic proportions. The characters are equally well drawn, from self-absorbed, overambitious doofus Flint to his expressionless but somehow heartbreaking sad-sack dad, Tim.

But the film's greatest pleasure – and the element that sets it apart from its smarmy, in-jokey predecessors – is its bizarre sense of humour. Fusing snappy one-liners with a kid-friendly seam of slapstick incorporating everything from talking monkeys to homicidal Gummi Bears, the script provokes comparison with comedy from The Marx Brothers to 'The Mighty Boosh'. This sense of unpredictability, coupled with some breathlessly paced and visually stunning action scenes, makes this the animated success of 2009… at least until 'Up' opens next month.
Author: Tom Huddleston
Release details
Rated:
U
UK release:
Fri Sep 18, 2009
Duration:
89 mins
Address:

Cineworld Falkirk Central Retail Park
Old Bison Works
Falkirk
FK1 1LW

Venue phone:

0871 200 2000

Venue website:
Price:

£6.30-£8.70

Map

Cineworld Falkirk

Central Retail Park




Old Bison Works




Falkirk




FK1 1LW

0871 200 2000

56.003820

,

-3.779935
Address:

The Loom
Cineworld Leigh Spinning Jenny Way
Leigh
WN7 4PE

Venue website:

Map

The Loom

The Loom




Spinning Jenny Way




Leigh




WN7 4PE

53.494174

,

-2.515112
Westgate Retail and Leisure Park, Colinsway, Wakefield, WF2 9SH Show map/details
Address:

Cineworld Wakefield Westgate Retail and Leisure Park
Colinsway
Wakefield
WF2 9SH

Venue phone:

0871 200 2000

Venue website:
Price:

£5.70-£7.90

Map

Cineworld Wakefield

Westgate Retail and Leisure Park




Colinsway




Wakefield




WF2 9SH

0871 200 2000

53.677142

,

-1.506102
Parrs Wood Entertainment Centre, Wilmslow Road, Manchester, M20 5PG Show map/details
Address:

Parrs Wood Entertainment Centre
Cineworld Didsbury Wilmslow Road
Manchester
M20 5PG

Venue phone:

0871 200 2000

Venue website:

Map

Parrs Wood Entertainment Centre

Parrs Wood Entertainment Centre




Wilmslow Road




Manchester




M20 5PG

0871 200 2000

53.409481

,

-2.218502
Address:

Cineworld Runcorn Trident Park
Halton Lea
Runcorn
WA7 2FQ

Venue phone:

0871 200 2000

Venue website:
Price:

£5.30-£7.60

Map

Cineworld Runcorn

Trident Park




Halton Lea




Runcorn




WA7 2FQ

0871 200 2000

53.326173

,

-2.699992
Address:

Cineworld Sheffield Valley Centertainment
Broughton Lane
Sheffield
S9 2EP

Venue phone:

0871 200 2000

Venue website:
Price:

£5.70-£8.60

Map

Cineworld Sheffield

Valley Centertainment




Broughton Lane




Sheffield




S9 2EP

0871 200 2000

53.401508

,

-1.414964
Address:

Thurso Cinema Ormlie Road
Thurso
KW14 7QU

Venue phone:

01847 891005

Venue website:

Map

Thurso Cinema

Ormlie Road




Thurso




KW14 7QU

01847 891005

58.586189

,

-3.538059
Address:

Theatr Mwldan Bath House Road
Cardigan
SA43 1JY

Venue phone:

01239 621200

Venue website:

Map

Theatr Mwldan

Bath House Road




Cardigan




SA43 1JY

01239 621200

52.086263

,

-4.659620
Sat Dec 21:

Sun Dec 22:

Mon Dec 23:
Address:

Cineworld Bury St Edmunds Parkway
Bury St Edmunds
IP33 3BA

Venue phone:

0871 200 2000

Venue website:
Price:

£5.70-£9

Map

Cineworld Bury St Edmunds

Parkway




Bury St Edmunds




IP33 3BA

0871 200 2000

52.246158

,

0.706641
Write your own review