The ten worst superhero costumes
These caped crusaders lead the way in laughable livery
By Tom Huddleston Tue Jun 11 2013
The snappy seersucker super-suit worn by Henry Cavill in 'Man of Steel' got us thinking about hero costumes. Sure, some of them are truly iconic, from Spidey's eye-scorching primary colours to Batman's shut-up-I'm-brooding black leather ensemble. But other masked avengers just don't have the same instinctive feel for fashion. Here are the ten daftest, cheapest, most deeply embarrassing superhero outfits.
Batman & Robin (1997)
The Batman suit is a design classic: black, shiny, threatening. But you know what automatically makes something less threatening? Nipples. Nonetheless, there they are, all embossed and tweakable, like the dials on a Bang & Olufsen hi-fi. Amazingly, George Clooney managed to walk away from this with his dignity intact. His equally perky sidekick Chris O'Donnell wasn't so lucky.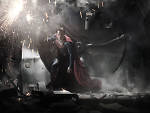 It's no surprise that 'Man of Steel' feels both modern and traditional – a halfway house between the broodier Nolan way of shaking things up and the louder, bone-crunching style that director Zack Snyder established with films such as '300' and 'Sucker Punch'. This is a film that is punchy, engaging and fun, even if it slips into a final 45 minutes of explosions and fights during which reason starts to vanish and the science gets muddy.
See the full 'Man of Steel' review
---
Best films now showing
Fond and giddy, the film of Michael Bond's books is everything you want it to be
Rated as: 4/5
Critics choice
A boys-own retelling of adventurer Thor Heyerdahl's 1947 Pacific crossing
A soulful, uplifting documentary following the occupants of a Nepalese cable car
See more Time Out film reviews