The Walker (15)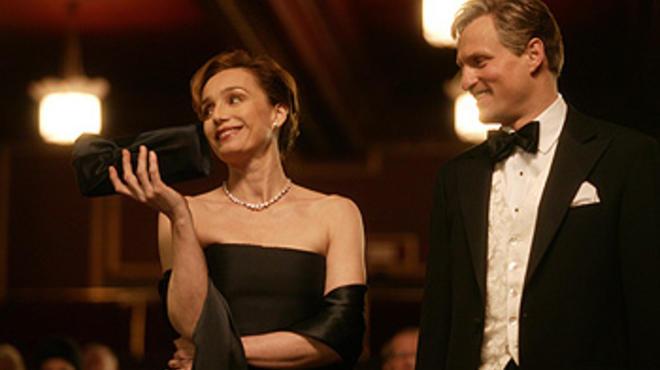 Time Out rating:
<strong>Rating: </strong>3/5
User ratings:
<strong>Rating: </strong>4/5
Rate this
Time Out says
Tue Aug 7 2007
Paul Schrader once characterised the life of his breakthrough character, Travis Bickle, as one of 'self-imposed loneliness'. It's a nice formulation; loneliness, unlike solitude, is never enjoyable, and the men in Schrader's screenplays insist on pushing happiness away. After 'Taxi Driver' came 'American Gigolo', whose story of high-society narcissism and killing makes it the most obvious companion to 'The Walker', but such self-indulgent melancholy is also probed in 'Raging Bull', 'Mishima', 'Light Sleeper', 'Auto Focus' and numerous other Schrader stories.
This one is set in Washington, DC. Woody Harrelson plays Carter Page III, an inside outsider, proud black sheep of a blue-blood Virginian clan that counts slave holdings and Nixon-baiting among its accomplishments. Our Carter is a 'walker', a sort of kept companion for society widows political and literal, a witty homosexual of the old school with a diligently maintained sanctum (another must for Schrader's men) amid whose lacquered chinoiserie he tends his toupée as a samurai would his sword. His tidy, unfulfilled life is upended, his transition from mascot to scapegoat begun, when he agrees to tell the police he, rather than one of his companions (Kristin Scott Thomas), has discovered the body of her lover.
The conspiracy plot that follows is both convoluted and unengaging, unfolding with an odd, almost period feel; the Bryan Ferry soundtrack compounds an '80s mood that jars awkwardly with present-day references. Harrelson, however, proves a tremendous asset. In his delicate, cagey performance, decorated with a Southern drawl, Carter's vocational bonhomie is shown to be as efficient a blockade to meaningful sociability as Bickle's messianic zeal or Jake La Motta's infantile wrath. Uneasy around the boyfriend he can't quite bring himself to acknowledge, Carter is utterly at home gossiping with Scott Thomas, Lily Tomlin and Lauren Bacall – and could you ask for better canasta partners than that prize kennel of bitches? 'I'll tell you a personal story,' a typical gambit begins. 'Not about me, of course…
''I'm not naive,' our anti-hero rightly insists, 'I'm superficial.' 'The Walker' is at its best observing surfaces: there's a telling scene played out while shopping for upholstery, for instance, and a neat, wordless exchange ahead of a public appearance when Carter's lawyer hands him a stars-and-stripes pin and he tags it to his lapel without breaking step. A shame, though, that the movie's other pleasures don't run deeper. Ben Walters
Author: Ben Walters
Release details
Rated:
15
UK release:
Fri Aug 10, 2007
Duration:
109 mins
Cast and crew
Cast:
Editor:
Cinematography:
Producer:
Screenwriter:
Director:
Production Designer:
Write your own review