The Vaccines interview
As The Vaccines headline their biggest ever show at The O2, we calm their pre-gig jitters with a nostalgic trip to Brixton
By Harriet Gibsone Mon Apr 22 2013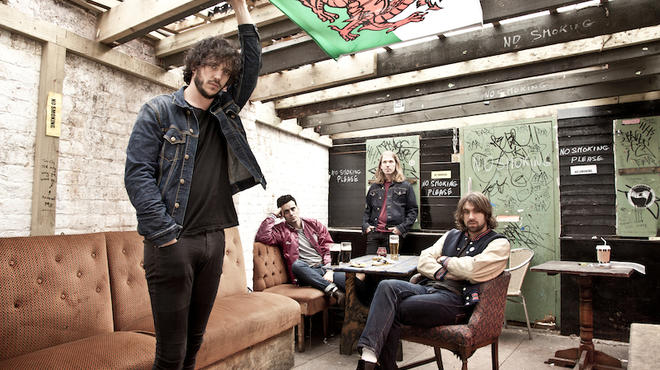 © Rob Grieg

'I really don't want to think about it, because if you allow it in any way to become a crescendo of your year, your lives or your career, it's too much to take,' Vaccines frontman Justin Young says as he sits down in Brixton Windmill's smoking garden. It's a few weeks before the band performs at the O2, and right now all he's trying to do is forget that it's a few weeks before the band performs at the O2. So what better way to reflect than bringing them back into the venue of their first ever London gig? It's like 'This Is Your Life', only with damp picnic benches instead of sofas. And fag ends instead of special guests.

'When I was walking down here today I was thinking, "weren't there dogs? I seem to remember some dogs…"' bassist Árni Arnason recalls wistfully of their often overlooked debut gig in July 2010. 'I remember we were excited because the sound man had been in The Brian Jonestown Massacre, but then probably so have 3,000 other people,' Young smiles.

It's three years since Young, Arnason, Freddie Cowan and Pete Robertson performed a set of frenzied rock 'n' roll to an audience consisting of their manager, his mates, two punters and potentially some dogs (the venue does have a dog, often to be spotted on its roof) in the 150-capacity Windmill. In that time the band have basked in critical triumph and platinum record sales – not to mention Justin's recent career diversion – writing songs with One Direction. What with Mumford & Sons, comebacks and pop behemoths hogging the top of the music totem, The Vaccines are almost the only UK band to form in the past few years who can fill such a huge venue. Had they existed a decade ago, when 'guitar music' wasn't spoken about like some rare disease, would their career have reached such heights?

'Probably,' Young ponders for a moment. 'I think in many ways we've really benefited from being one of the only bands to play in the vein that we do. But also because straight-up rock 'n' roll is out of vogue, it's also hindered us.'

'It's worked both ways. It scares me to think about it,' Arnason shakes his head, 'I guess our competition would have been…'

'The Strokes!' Young laughs.
'No full nudity. I have way too many issues'

Back to the show. Without the grandeur of fervent banjo solos or choreographed dance routines, do The Vaccines have any tricks to captivate the forthcoming sea of 20,000 faces?

'Ultimately, I think that our music belongs in really small spaces, as rock 'n' roll does. It isn't bombastic or epic so we can't rely on fireworks or pyrotechnics. When we supported Red Hot Chili Peppers we did an arena date and they made it feel like an intimate show,' recalls Young.

'It was amazing – just four guys playing music but getting every fucking person in the place up for it. They don't really put on any tricks,' Arnason pauses, 'Well, they are topless.'

'Maybe that's what I'm going to do. I'll take my top off for the encore,' decides Young, before Arnason suggests they go the whole hog and perform fully nude.

'No, I have way too many issues,' Young dismisses, quite rationally.

Once it's all over and the nagging, constant fear has subsided, what's next? Can we expect a headline show at Wembley Stadium? Hyde Park?

'That's the thing. We'll probably go back to the Forum. Then the Barfly,' Young smiles mischievously, 'Eventually we'll be playing back down at Brixton Windmill.'
---
---
See Justin from The Vaccines favourite pubs
Listen to The Vaccines' 'Come of Age'
For Independent Venue Week, we've rounded up a few of our favourite gig venues
The My Chemical Romance singer talks Britpop, Bowie and board games
You'll be hearing great things from these up-and-coming bands, singer-songwriters, producers and artists throughout this year
Test your knowledge of the year's musical highlights, from Kanye and Kim to Kiesza and Kate Bush
See all Time Out music features