Sir John Eliot Gardiner interview
Conductor Sir John Eliot Gardiner tells us about his fascination for JS Bach
By Jonathan Lennie Tue Mar 26 2013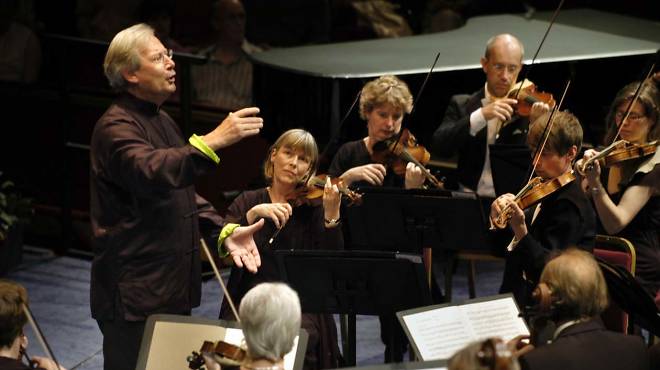 © Chris Christodoulou
If there is a single composer who, by consensus among musicians, sits above all the others, it is Johann Sebastian Bach. The German Baroque master whose life spanned the second half of that era (1685-1750) had a brilliant musical min. Working quietly and underappreciated in his role as Kapellmeister (church choirmaster) in Leipzig, he produced over a thousand works in almost every genre except opera – music that is exquisite and profound in its simplicity, complexity and clarity of import.
And though we have been left with little documentary evidence of this genius's personal life, someone who knows more about Bach than anyone else is conductor Sir John Eliot Gardiner. Growing up with the famous 1748 portrait of JS Bach by EG Haussmann in his parents' house (kept there for safe-keeping during WWII), Gardiner spent his youth 'under the gaze of the Cantor'. Celebrating his seventieth birthday in a few weeks, he has dedicated much of his professional life to the composer (including conducting all 200 of Bach's Church Cantatas in 2000), and this year is a particularly busy one. He has made a TV documentary, 'The Genius of Bach' and there is publication of his long-awaited Penguin biography of the composer.
Do you think Bach is the No 1 composer?
'Yes, unquestionably.'
Is he the fundament of the Western Classical tradition?
'It is difficult to find anyone else who would qualify.'
What sets Bach above all his contemporaries?
'He just wrote better music, didn't he? There are four reasons : 1. The incredible dance impregnation of his music ,which is joyous, elegant and sometimes folkish. 2. It's got incredible seriousness of purpose (not humourless but full of wit), density and complexity, which is very attractive and mesmerising for a musician. 3. There is a fantastic sense of the cycle of life and death of which we are all part. 4. You feel there is a beating heart – a human being who has been through terrible experiences and is able to channel all that grief, despair and frustration into music of such quality.'
Did Bach crown the Baroque period, combining all the musical developments of the era?
'Yes, but it is more than that – there is so much modernity in his music. Yes, it may have appeared old fashioned and the end of a tradition in his lifetime, but it also had the seeds of so much music of the future, and the fact that you can hardly name a composer of the nineteenth century who wasn't full of reverence for Bach or grew out of knowledge of his counterpoint, it tells you that there is modernity there. Also, jazz music of the twentieth century is almost inconceivable without him.'
In researching your film and book, what have you learned about him?
'I have been trying to encapsulate in the film and the book is how craftsman-like his origins are and show the circumstances of his upbringing and his education are so instrumental and had such a huge influence on the type of composer he became. He has a lot of knocks and tragedies early on in his life and could have take the wind of the sails of anybody else, but somehow it was a source of strength to him – the fact that he was orphaned at nine and a half, that he lost so many children and his first wife – and yet he was able to channel so much of that energy and grief into music-making. It makes him very human and appealing as a composer.'
You've claimed the cantatas are Bach's greatest achievement...
'Look, I am not an organist... As a choral man and a wordsmith, I think the cantatas are just prodigious, because when you think of how they were written to order on a weekly basis and could easily have just disappeared without trace. But the sheer consistent quality of nearly 300 cantatas (200 we've got and maybe 100 that are lost) is just amazing. It is out of the realms of normal human capacity.'
---
---