The School of Rock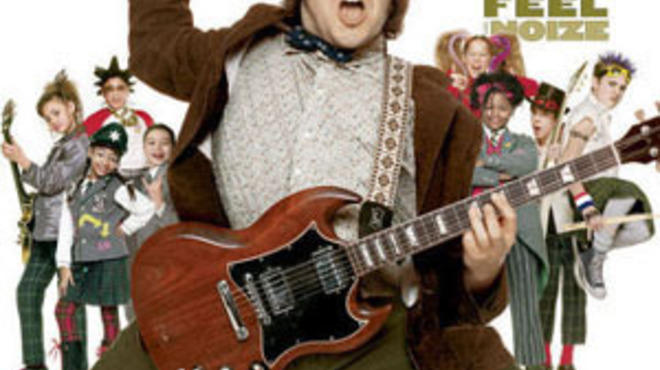 Time Out says
As teacher training films go,
The School of Rock
is different. It's not just that our hero, Black's quack supply teacher Dewey Finn, is to all purposes a headbanging jackass who can't even spell his claimed name ('Schneebly'); nor that his tutoring style has all the selfless delicacy of Brian Glover's football refereeing in
Kes
. What makes his encounter with a class of prep-school fifth graders the greatest breakthrough in pedagogy since Bill and Ted met Socrates is his discovery that even square kids might yet be saved by a swift baptism in the rejuvenating fount of Rock. Of course, some will see Dewey's class rock-band project as just one big fat joke. Sure, he's a geek, a deadweight: 'I've been mooching off you for years, and it's never been a problem until she showed up,' he protests to his dweebish pal Ned (screenwriter White), whose carping girlfriend wants Dewey to grow up, clock on and clear out. But what kind of sick society feeds its offspring Christina and Puff Daddy, and buries the riffs of Sabbath and the mighty Zep in the section marked 'sad-sack '70s timewarp'? To hear the
New York Times
,
School of Rock
's call to arms couldn't really happen ('The molding of a fifth-grade class into a well-oiled rock machine in a few weeks is also inconceivable'), but Linklater leaves cynicism at the door, folding Black's hairier solo instincts into the group mix. A cathartic class comedy for kids of all sizes, it's
Bugsy Malone
in rock pomp,
Slacker
meets
Spy Kids
.
Author: NB
Release details
Cast and crew
Director:
Richard Linklater
Producer:
Scott Rudin
Screenwriter:
Mike White
Cinematography:
Rogier Stoffers
Editor:
Sandra Adair
Production Designer:
Jeremy Conway
Music:
Craig Wedren
Cast:
Jack Black, Joan Cusack, Mike White, Sarah Silverman, Adam Pascal, Lucas Papaelias, Chris Stack, Lucas Babin, Jordan-Claire Green, Veronica Afflerbach, Miranda Cosgrove, Joey Gaydos Jr, Robert Tsai, Angelo Massagli, Kevin Clark, Maryam Hassan, Caitlin Hale, Cole Hawkins
Users say
<strong>Rating: </strong><span class='lf-avgRating'>0</span>/5