Interview: Elizabeth Banks on Man on a Ledge and The Hunger Games
The comedy and action star takes a breather to talk about her daredevil tendencies and her favorite NYC retreat.
By Sarah Bruning Mon Jan 23 2012
Since you're working a lot and you have your baby, Felix, at home, some TLC seems to be in order. Which spa in New York City is your go-to place?
I'm a fan of the Spa at the Mandarin Oriental (mandarinoriental.com/newyork/spa), where I normally get a deep-tissue massage. I don't go to be relaxed; I go to work out tension and knots. I like a nice, deep dig!
What type of spa treatments do you enjoy the most?
I recently had an amazing mud wrap [in Park City, Utah]. The aesthetician asked if I was claustrophobic, which made me wonder if I really knew what a wrap entailed. She said she was going to wrap me with foil and cover my eyes, which makes some people feel like they're in a coffin. [Laughs] I told her I thought I'd be okay, and I was.
What's the wackiest treatment you've tried?
The most ridiculous experience I've had was in Budapest. It's known for its bathhouses, and I'd never been to one of those. I had some giant Hungarian smack me with palm fronds. It was so painful [Laughs], but I was too embarrassed to say, "Please stop!"
Are there any other ways you like to relax when you're in NYC?
I love sitting in the penguin exhibit at the Central Park Zoo (centralparkzoo.com) and watching them glide around, especially on days when no one's there. I'm a huge fan of MoMA (moma.org), especially since it's been renovated. I love exploring the sculpture garden or having tea there. I'm also a big High Line (thehighline.org) enthusiast.
Your son Felix's first birthday is approaching, right?
Yeah, it is. I'll probably be on the promotional tour for The Hunger Games, so I'm hoping we're in Paris for his birthday. He's a very good traveler so far, but [trouble is] coming for me, I'm sure!
What about siblings? Would you go through the surrogacy process again?
I think about it, but we'll see. He was a project. [Laughs] I don't know [about using a surrogate again]. Right now we're just enjoying Felix. We're still figuring out how to have a child 24/7 and still work and travel. It's a huge adjustment suddenly to be not just two people, but a family.
Man on a Ledge opens Fri 27. The Hunger Games opens Mar 23.
You might also like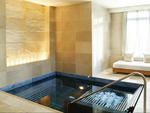 80 Columbus Circle, (at 60th St)
More info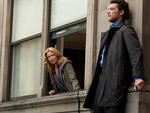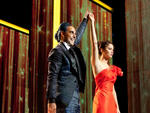 See more in Health & Beauty
---