Oscar predictions for 2014
Time Out looks at the contenders for the 2014 Academy Awards
By Time Out editors Sun Jan 12 2014
Best Director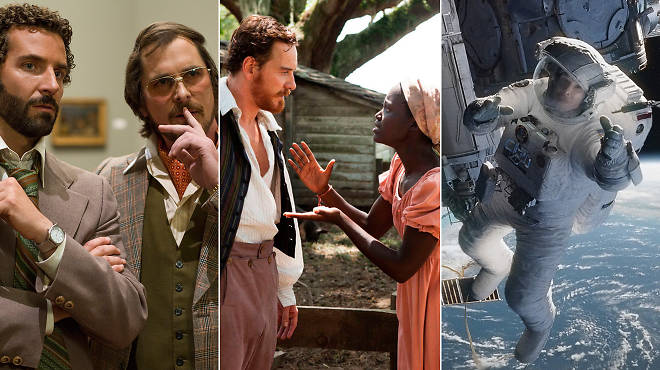 Will win?
Alfonso Cuarón for Gravity
Should win
Alfonso Cuarón
Should have been nominated
The Coen brothers for Inside Llewyn Davis
The frontrunner
Alfonso Cuarón is the favourite in this category for his head-scratching, jaw-dropping work on the space drama Gravity. The Mexican director, whose previous films include Children of Men and Harry Potter and the Prisoner of Azkaban, has so far won the Best Director prize at both the BAFTA and Directors Guild of America awards—strong indicators that he's set to take this category at the Oscars. While some naysayers have grumbled about the plot of Gravity, there's a consensus afoot that Cuarón's work has widened the boundaries of sci-fi storytelling and harnessed the power of special effects in a manner that's sensitive and intelligent.

Possible spoiler
Crime comedy American Hustle has the same number of overall Oscar nominations—ten—as Gravity, so its director, David O. Russell is in with an outside chance. But the biggest threat to Cuarón in this category and the Best Picture category is surely 12 Years a Slave, which has nine nominations overall. Might a swell of support for this sombre, true-life historical tale mean that the British director of Shame and Hunger wins the little gold man? Certainly there are scenes in McQueen's film—an attempted lynching, a brutal whipping—where his masterly direction plants itself firmly in any audience's memory.
Who else is nominated?
After Cuarón, Russell and McQueen, the other two nominees are Martin Scorsese for The Wolf of Wall Street and Alexander Payne for Nebraska. Neither will win. Scorsese's work is exceptional, but surely too many voters will feel they've seen it before, especially in GoodFellas and Casino? Payne's black-and-white tale of a father and son sort-of-bonding on a road trip has clearly struck a chord with Oscar voters, but it's too laidback to win.
You might also like
---
The best films now showing
Rated as: 5/5
Critics choice
Celebrating the work of France's one-of-a-kind cine-diarist Chris Marker, BAM highlights the director's 1997 curiosity, a heady swirl of computer games, WWII history and thoughtful sci-fi.
Rated as: 4/5
Critics choice
If you want dueling Michael Caine impressions, Steve Coogan and Rob Brydon are back, in an enjoyably tart-tongued sequel to 2010's The Trip that ups the middle-age malaise.
Rated as: 4/5
Critics choice
French provocateur Catherine Breillat delves into her own history with a scam artist in her difficult but rewarding latest.
See more Time Out film reviews