Oscar predictions for 2014
Time Out looks at the contenders for the 2014 Academy Awards
By Time Out editors Sun Jan 12 2014
Best Actress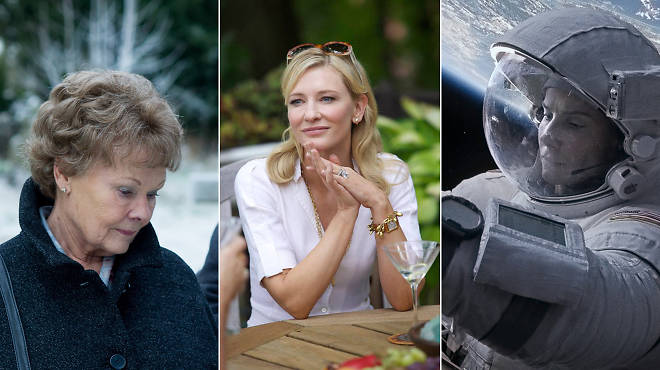 Will win
Cate Blanchett for Blue Jasmine
Should win
Cate Blanchett.
Should have been nominated
Greta Gerwig for Frances Ha

The frontrunner
Short of defecting to North Korea and swearing allegiance to Kim Jong-un, Cate Blanchett is a dead cert. The Aussie actress has been bookies' favorite from the get-go for her devastating performance in Blue Jasmine. Wins at the Baftas, Golden Globes and the Screen Actors Guild awards have only cemented her position. The only potential spoiler, and this is a big if, is Woodygate: the very public and increasingly bitter row between Woody Allen and Mia Farrow over allegations that he abused his adopted daughter.
Possible spoilers
The closest Blanchett has got to a rival is serial nominee Amy Adams (five nominations in eight years), who hits all the right notes across the emotional range as a gangster's moll in American Hustle.
Who else is nominated?
A knee-op has kept Judi Dench from the campaign trail, so her Oscar-friendly twinkly-eyed performance in Philomena hasn't made the dent many thought it would.
Sandra Bullock is nominated for Gravity. But while the 3D extravaganza is looking hot for Best Picture and Best Director, its astonishing visual effects will most likely be rewarded over its acting pyrotechnics.

Meryl Streep is up for August: Osage County. But the film hasn't turned out to be the juicy-looking piece of Oscar bait some were expecting.
You might also like
---
The best films now showing
Rated as: 4/5
Critics choice
Leaping into the life story of the Godfather of Soul, up-and-comer Chadwick Boseman turns in a fearless performance, intensely physical and burning with conviction.
Rated as: 4/5
Critics choice
Playing a gentle, age-weathered priest unfairly targeted for murder, the mighty Brendan Gleeson anchors this extremely dark Irish comedy with soul and sympathy.
Rated as: 4/5
Critics choice
Taking a break from serious superheroics, the Marvel brain trust gets a little silly, with redemptive results.
See more Time Out film reviews