Toronto International Film Festival halftime report
Ambition and go-for-broke nuttiness mark the 2012 edition.
By Joshua Rothkopf Tue Sep 11 2012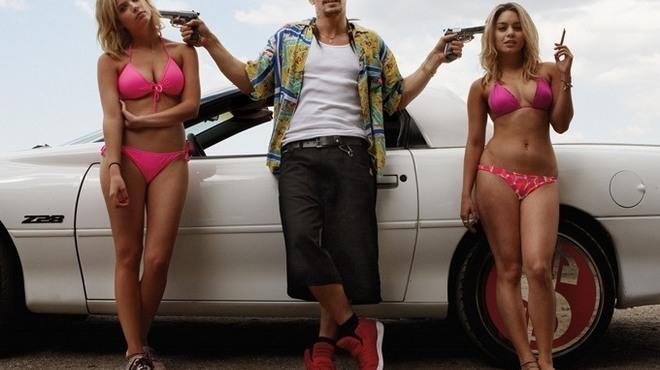 From left, Ashley Benson, James Franco and Vanessa Hudgens in Spring Breakers
There must be movies at this year's Toronto International Film Festival—an especially unhinged incarnation—that celebrate the quiet virtues of discipline, wholeness and resolution. I haven't seen them yet. But given the fest's reputation for annually showcasing hundreds of new and critically esteemed titles, it's likely that some other viewer is having a solidly conventional good time, maybe even getting to bed early.

RECOMMENDED: Full coverage of the Toronto Film Festival

Yet judging from the buzziest title so far, Paul Thomas Anderson's ominous Scientology parable The Master, few directors seem to be playing it safe. Like Anderson, they're doubling down into brooding pet moods and obliqueness, or shucking off their mantles altogether. The Matrix's Wachowskis aren't just back after a four-year hiatus; they've arrived with the ridiculously sprawling Cloud Atlas (codirected by Run Lola Run's Tom Tykwer), a centuries-spanning revolution fantasy that's breathtaking in its expensive willingness to mystify sci-fi fans. From Jim Broadbent playing a crusty sea captain (the role he was meant to embody) to Tom Hanks speaking postapocalyptic jive in a future jungle, there's so much off-kilter weirdness that you almost want to give the mess a pass on principle. And I don't remember all those fancy computer-generated effects when I read Leo Tolstoy's classic, but Joe Wright's heavily tricked-out version of Anna Karenina (starring his well-cast muse, Keira Knightley) sure has a busy time evoking wintry Russian romance.

Other directors dove just as boldly, but to more impressive depths. Finally releasing himself from the need to dazzle with clever dialogue, Brick's Rian Johnson opened the fest with Looper, a time-travel action film that approaches the fablelike emotion of Witness. (When a surly Bruce Willis tells you not to think too hard about the tale's plot, you listen.) After making two exquisite fiction films about romantic division, actor-turned-director Sarah Polley achieves her most resonant success with the revelatory docu-memoir Stories We Tell, an examination of her uncertain parentage that trades navel-gazing for an evolving sense of forgiveness. Comic and complex, Polley's effort vaults her into the empathetic realm of French New Wave icon Agnès Varda. And David O. Russell, who reshaped his mode of filmmaking in 2010's The Fighter, furthers his winning formula with Silver Linings Playbook, a modern-day Moonstruck featuring pungent Philly realness, an honest-to-God performance from Robert De Niro and a pair of psychologically damaged losers (Bradley Cooper and Jennifer Lawrence) on the romantic rebound.

And still, it gets weirder. Brian De Palma returns with Passion to remind everyone he still likes watching women shower in split screen. Though it pains me to write these words, his style of sleaze is long past dated (a gooey orchestral score by Body Double's Pino Donaggio doesn't help matters, though it definitely supplies retro mojo). Thankfully, there was state-of-the-art trash to compensate. Harmony Korine's intentionally vapid Spring Breakers stupefied the crowd with its jiggling floridness: a Day-Glo mélange of Miami Vice shoot-outs, Girls Gone Wild skankitude and a grill-toothed James Franco spouting wanksta wisdom. None of it can be taken seriously, but the irresponsibility it embraces is thrilling. (Shrieking teenage fans of costar Selena Gomez no doubt learned a thing or two about the criminal life.) In short, this year's Toronto fest is giving me cavities, but I wouldn't want it to be any less bad for me—or sweet.

The Toronto International Film Festival runs through Sun 16.

Follow Joshua Rothkopf on Twitter: @joshrothkopf
You might also like
---
Film events calendar for New York City
Time Out videos
---
---
Tweets by Time Out NY
Tweets about "@timeoutnewyork"
@TimeOutNewYork
Subscribe to Time Out New York on Spotify for playlists and recommendations from our Music team.


Check out New York's best restaurants, hottest street style, cool apartments and more.