Toronto International Film Festival 2012: Berberian Sound Studio, Aftershock and more
They may not like the term, but plenty of movies find their winding way to the horror genre.
By Joshua Rothkopf Wed Sep 12 2012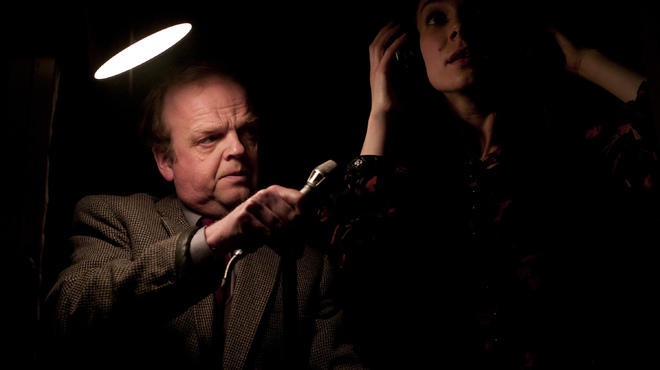 Toby Jones and Tonia Sotiropoulou in Berberian Sound Studio
"I don't make horror films," a pretentious (and distinctly Dario-Argento-like) director sniffs in the witty Berberian Sound Studio, set in early-'70s Italy. He is, of course, making one—a shameless melange of sizzling red-hot pokers, moaning witches and splatting body falls. But all of that happens offscreen: It's arguable that Berberian's writer-director, Peter Strickland, while obviously a keen fan of Suspiria, isn't splashing around in the genre pool himself. Rather, he's created something brainy and special, a Blow-Up/Blow Out-like psychological thriller mostly seen from behind a sound-mixing console, one that prickles with backstage tensions and near-experimental montage. Our delicate hero (not the glitzy director above) is delicate Toby Jones as Gilderoy, a timid sound mixer who's come from England and Mum to go to where the work is. Distastefully, he sets about smashing vegetables and performing other tricks of the postproduction trade. His process is absorbing. The movie—a distinctly solid, analog-era piece of craft—subtly takes his side, even as the screaming gets into the poor guy's head. When a fissure finally widens, Strickland's footage and sound violently rip a hole in the filmic universe. I've never seen anything quite like it and need to watch it again soon.

RECOMMENDED: Full coverage of the Toronto Film Festival

Many other horror films—proudly and admittedly so—have tried to grab my attention before and since Strickland's mood piece. (Toronto's a place where the devoted fan can cobble together a killer subfestival.) They haven't been as effective. Rob Zombie, his Halloween-remaking phase happily over, presented The Lords of Salem, strong on the jokey camaraderie between radio shock jocks (including wife Sheri Moon Zombie), weak on the scary witches, an unfortunate element to botch. Omnibus collection The ABCs of Death—different directors for all 26 letters!—scored just about where you'd expect on the ratio of fun to flimsy. While never actually being terrifying at any point, some of these three-minute shorts, especially those from Japan, are breathtakingly bizarre. (Transgressive image of the fest: a naked, gyrating woman with one breast inked with a jet airplane, the other, the Twin Towers.) Producer-actor Eli Roth—who thanked Toronto audiences for giving him his start with 2002's Cabin Fever—returned with Nicolás López's Aftershock, a gory Chilean-earthquake panic flick that deserves a better narrative shape. It gets bogged down in everyone-suffers nihilism. On the other hand, of the serial-killer midnighter No One Lives, let's just say that some folks do indeed make it, a breach of faith.

My heart is straying to the festival's Vanguard series, charmingly described by programmer Colin Geddes as a "cooler, older sister" to his sold-out Midnight Madness program. Here, you could catch up with the mind-blowing Sundance sensation Room 237, a keyhole into the mazelike world of Shining obsessives. (Synth-scored and clever, the documentary splits it time between NASA-conspiracy crackpots and ace subtextual readers.) And director Ben Wheatley, last at TIFF with the Wicker Man-crazy Kill List, broadens his range with Sightseers, a delicately judged black comedy about murderous lovers who shoehorn bludgeonings in between stops on their banal holiday tour of the British Midlands. The acting is cozy-couple cute (you won't forget the snug pair of pink, crocheted lingerie) and belly-laughs alternate with the bloodletting. To quote that snobby Italian director, don't call this a horror film—we'll need a better word.

Follow Joshua Rothkopf on Twitter: @joshrothkopf
You might also like
---
Film events calendar for New York City
Time Out videos
---
---
Tweets by Time Out NY
Tweets about "@timeoutnewyork"
@TimeOutNewYork
Subscribe to Time Out New York on Spotify for playlists and recommendations from our Music team.


Check out New York's best restaurants, hottest street style, cool apartments and more.