Toronto International Film Festival 2012: Leviathan, Kon-Tiki and The Bay
It's back to the water with three filled-to-the-brim titles.
By Joshua Rothkopf Thu Sep 13 2012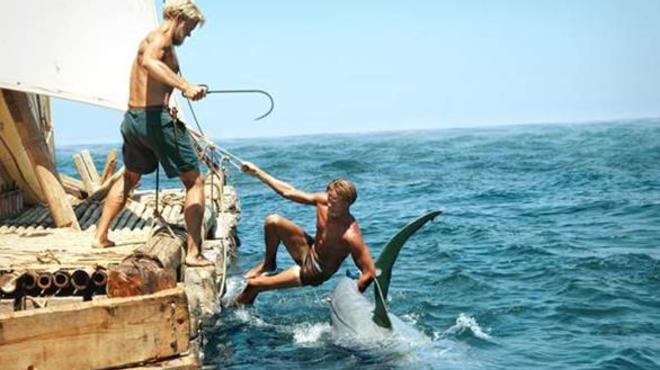 From left, Jakob Oftebro and Tobias Santelmann in Kon-Tiki
During a little downtime at June's Nantucket Film Festival, I finally hoisted a copy of Moby-Dick, after years of creative avoidance. It felt like time. Since then, I've taken the summer to leisurely make my way through (richly rewarding) and while I've learned a lot about whaling and ropes, the element that's stayed with me most is the sea itself: churning, abstract, an eternal place of redemption and self-destruction alike.

RECOMMENDED: Full coverage of the Toronto Film Festival

To say that I was ready, then, for a TIFF trio of nautical adventures would be an understatement. (Come to think of it, let's add The Master as a fourth, vaguely about reinvention on the sea even if I find Paul Thomas Anderson's lack of acuity troublesome—here's my extended review.) The wordless, near-experimental Leviathan fits the Melville mode most snuggly—it's an inky-black record of predawn commercial trawling off the coast of New Bedford, Massachusetts. Filled with impressionistic takes of chains cranked by brawny arms, nets spilling over with gasping fish and the ceaseless flapping of gulls in pursuit, the documentary has a hypnotic pull, free of comment or judgment. The activity onscreen feels both modern and ancient; you bring your own associations. Co-directors Lucien Castaing-Taylor and Véréna Paravel are Harvard-schooled, out of the esteemed Sensory Ethnographic Lab, and their movie brandishes a heady, mysterious openness.

Norway's Kon-Tiki, meanwhile, is closer to the adventuresome side of Moby-Dick—it's the kind of movie my dad will love. As its title implies, it's a dramatization of Thor Heyerdahl's near-foolhardy 1947 expedition across 5,000 miles of Pacific on a balsa-wood raft to prove his theory about Peruvian colonization. At first, the sight of cobalt-eyed star Pål Sverre Hagen and his model-handsome crew setting out in button-down shirts brings to mind a Duran Duran video. Soon enough, though, come the snapping sharks (one is brought onboard in a staggering action sequence) and the psychological showdowns of a gripping survival tale. Kon-Tiki isn't especially suggestive, yet it's scripted with a sharp appreciation of maritime and navigational skill, emphasizing prowess over fortune.

Does Barry Levinson's beautifully calibrated fear film The Bay count too? It should. Less a microbial take on Jaws than an outraged cry against environmental spoilage (with an extremely high body count), the movie is beyond icky, set on a nightmarish July 4th when an entire town succumbs to flesh-eating isopods. Footage from iPhones, police cars and surveillance cams is blended expertly, with Levinson's ease at directing actors making a crucial difference. A finger is pointed at the local chicken-processing plant, dumping steroids and feces into the drink, along with the jobs-creating local mayor who didn't think ahead; it's nice to see a horror film unashamed of progressive politics. A Maryland boy through and through, Levinson stressed the real-life conditions of Chesapeake Bay in his postscreening Q&A. His rapt midnight crowd stayed afterward to hear him, no doubt relieved to be drinking bottled water.

Follow Joshua Rothkopf on Twitter: @joshrothkopf
You might also like
---
Film events calendar for New York City
Time Out videos
---
---
Tweets by Time Out NY
Tweets about "@timeoutnewyork"
@TimeOutNewYork
Subscribe to Time Out New York on Spotify for playlists and recommendations from our Music team.


Check out New York's best restaurants, hottest street style, cool apartments and more.