Toronto International Film Festival 2012: The Gatekeepers, Argo, Casting By
Behind-the-scenes players get their moments in the spotlight.
By Joshua Rothkopf Fri Sep 14 2012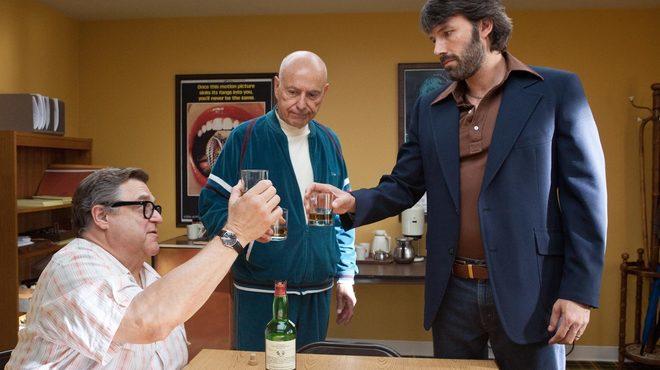 From left, John Goodman, Alan Arkin and Ben Affleck in Argo
The former head of Israel's ultrasecret intelligence group Shin Bet pauses, looking for the right word: "We've become…cruel." Such admissions aren't going to please the pro-Zionist viewers in your crowd, but The Gatekeepers, a concentrated blast of high-level doubt that gathered heat at TIFF, asserts its importance with each anecdote. Built out of six candid interviews with former agency chiefs, the documentary occupies a prickly zone between gruff, tactical know-how (including some discomfiting elation at successful assassinations) and lingering guilt. The latter wins out, controversially, though there's much to admire in the moral grappling of spooks who unwittingly orchestrated the alienation of millions in the West Bank and Gaza. Solving the cinematic shortcomings of talking-head docs, director Dror Moreh includes some unnerving b&w recreations of notorious operations: aerial shots and car explosions. These scenes exist in an abstract space, much like a video game, ironically suggesting a theoretical remove when the ramifications are real-world and deadly. See this title when it comes to the New York Film Festival, but brace for arguments.

RECOMMENDED: Full coverage of the Toronto Film Festival

Ben Affleck, meanwhile, finds the only happy story to tell about the CIA with Argo, an ultimately breezy spy drama based on the covert, real-life 1980 rescue of six of the Iran hostages. Their salvation arrived via imaginative operative Tony Mendez (played by Affleck in what could have been a breakout role for a Latino), who persuaded the State Department to bankroll a fake Hollywood sci-fi production scouting in Tehran. Sometimes the movie strays into Wag the Dog territory (especially in scenes with Alan Arkin as a scrappy L.A. producer thrilled by the game); elsewhere, it has some of the big-budget period vibe of Spielberg's Munich. But once you get past the wonky beards and stranger-than-fiction premise, Argo is toothless and inconsequential, particularly given Affleck's unusually strong directorial career to date (Gone Baby Gone, The Town). Instead, I'll take the stridency of Casting By, yesterday picked up by HBO. Though not quite on the level of his exquisitely neurotic Guest of Cindy Sherman, director Tom Donahue's latest makes a footage-laden case for the seismic influence of casting directors such as late NYC legend Marion Dougherty—giving her last extended interview here—and Travolta-discoverer Lynn Stalmaster. Donahue also shoehorns in some sizzling resistance by DGA president Taylor Hackford, who chafes at the idea of a new Oscar category. (An honorary award for Dougherty, supported by gushing letters from Clint Eastwood and Robert De Niro, is quashed.) Rest easy, you behind-the-scenes players: Your story will become a festival title soon enough.

Follow Joshua Rothkopf on Twitter: @joshrothkopf
You might also like
---
Film events calendar for New York City
Time Out videos
---
---
Tweets by Time Out NY
Tweets about "@timeoutnewyork"
@TimeOutNewYork
Subscribe to Time Out New York on Spotify for playlists and recommendations from our Music team.


Check out New York's best restaurants, hottest street style, cool apartments and more.