Samsara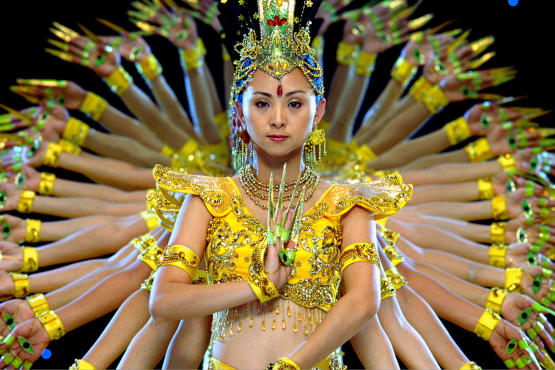 Chinese dancers throw their hands in the air and wave them like they just don't care in Samsara
Time Out rating:
<strong>Rating: </strong><span class='lf-avgRating'>2</span>/5
User ratings:
<strong>Rating: </strong><span class='lf-avgRating'>4</span>/5
Rate this
Time Out says
Tue Aug 28 2012
Ron Fricke photographed 'Koyaanisqatsi' in 1982, directed 'Baraka' ten years later, and now takes us on another wordless global journey in 'Samsara' – its title derived from a Sanskrit word suggesting the endless cycle of life, death and rebirth. Anyone who's seen either of those previous films will, however, note the endless recycling of similar images and juxtapositions here, as Fricke's camera circles the planet in search of pompous spectacle. Clearly, he's a gifted cinematographer, since the shots of temple dancers, sand-blasted landscapes and teeming metropolitan chaos are often astonishing in their palpable texture and eye-boggling detail. The results, however, amount to little more than a giant flick-book of 'wow' moments, because Fricke's fall-back position, where slow/ancient/natural is good and fast/modern/synthetic is bad, amounts to formulaic eco-preachiness unlikely to sway hearts and minds. Almost three decades on from 'Koyaanisqatsi' and we're still stuck on speeded-up Tokyo commuters cut to twiddly music? Fricke's film reminds us there's an inspiring world out there, but his approach is badly in need of creative rebirth.
Author: Trevor Johnston