A Serious Man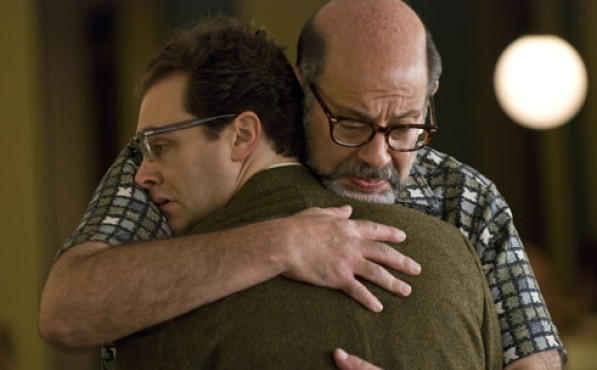 HUG IT OUT Melamed, right, takes more from Stuhlbarg than body heat.
Time Out rating:
<strong>Rating: </strong><span class='lf-avgRating'>5</span>/5
Time Out says
Wed Sep 30 2009
Always the cruel gods of their movies, the brothers now turn to religious desperation—a perfect match—and, obliquely, to their own Jewish boyhood in late-'60s suburban Minneapolis. A Serious Man, like their shaggy masterpiece The Big Lebowski, justifies the loftiest expectations, both highly controlled and uncommonly exposed. The Gopniks are an unstable clan: Anxious Larry (Stuhlbarg) uncertainly pursues tenure as a math prof while one of his students blackmails him for a better grade. His wife is leaving him for an orotund patronizer (the outstanding Melamed); Larry's oily brother (Kind) won't vacate the bathroom; his daughter wants a nose job; and his son alternates bar mitzvah prep with habitual toking.
These are not the caricatures of Barton Fink. Though often funny, Larry unravels with enormous pathos, crying in his lawyer's office and seeking a rabbinic wisdom that might not exist. (Arthur, the brother, has his own breakdown, wailing in the night: "Ha-shem hasn't given me shit.") Perhaps informed by Cormac McCarthy's fatalism, the Coens have used their own personal memories to shift toward a grander inquiry, best expressed in a piece of rock music that sneaks up on you with its aptness: Don't you want somebody to love? A stoned, lonely neighbor lures Larry with the "new freedoms," but all he really desires is answers from his holy men. One junior rabbi can only enthuse about the parking lot, another waxes mystically about "the goy's teeth" (this sequence, set to Hendrix, is easily the Coens' most stunning). Maybe there is no one to love, or love us back; on the horizon is oblivion. See this film immediately.—Joshua Rothkopf
Opens Fri.
Watch the trailer
See also Hit and mitzvah
Author: Joshua Rothkopf
Users say
<strong>Rating: </strong><span class='lf-avgRating'>0</span>/5