Battle: Los Angeles (PG-13)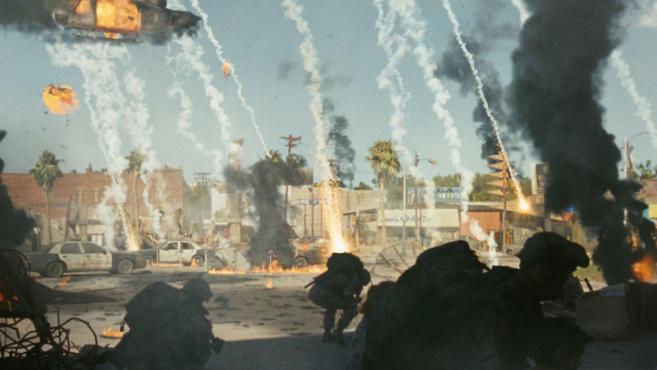 Time Out rating:
<strong>Rating: </strong><span class='lf-avgRating'>1</span>/5
Time Out says
Thu Mar 10 2011
When aliens eventually try to colonize our big blue marble for its water supply---notice how we aren't saying if---you imagine the military's response will resemble the in medias res opening of Jonathan Liebesman's speculative sci-fi belly flop. Soldiers, armed to their gritting teeth, scramble into copters; communication officers monitor manic news reports and coordinate their counterattacks. Everyone is mobilized and ready for action, including audiences (the biggest casualty of this war porn). Flashbacks reveal bare-minimal backstories; then, ostensibly, it's all about watching Marines defend L.A. from interstellar insurgents in Halo couture.
Fess up: You want to see Los Angeles get blowed up real good, and it's a measure of this movie's incompetence that it can't even deliver that vicarious thrill properly. (Palm trees aside, this Hell-Ay theater of war couldn't be more geographically generic; you'd think you were watching Battle: Montclair.) What we do get, however, is one hoo-ra! recruitment ad for the USMC, pinballing between laughably bad---staff sergeant Aaron Eckhart's preclimax pep talk is one for the Hootworthy Hall of Shame---and simply chaotic and incoherent. Having a high concept and a shaky camera doesn't mean you're replicating the secondhand thrill of guerrilla combat, any more than constructing an exploitative semper fi circle jerk will make viewers feel better about the two unpopular wars we're still engaged in. The film fights its campaign on two fronts: blockbuster entertainment and ideological propaganda. It loses, spectacularly and shamefully, on both counts.
Watch the trailer
Author: David Fear
Release details
Rated:
PG-13
US release:
Fri Mar 11, 2011
Duration:
117 mins
Cast and crew
Cast:
Aaron Eckhart, Michelle Rodriguez, Bridget Moynahan, Claudia Wells
Director:
Jonathan Liebesman
Users say
<strong>Rating: </strong><span class='lf-avgRating'>0</span>/5