Little White Lies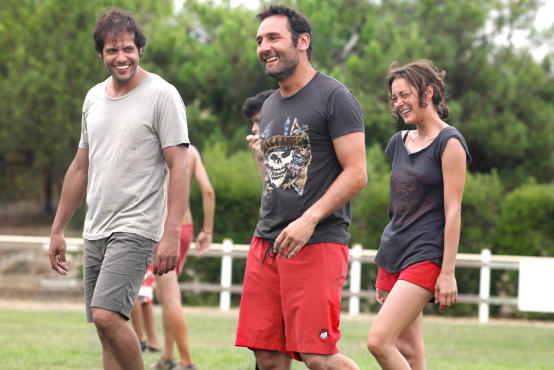 Laurent Lafitte, Gilles Lellouche and Marion Cotillard in Little White Lies JEAN-CLAUDE LOTHER
Time Out rating:
<strong>Rating: </strong>2/5
Not yet rated
Time Out says
Tue Aug 21 2012
A man (The Artist's Jean Dujardin) stumbles out of a nightclub, speeding out on his scooter into a beautiful, eerily deserted Paris—to be promptly sideswiped by a garbage truck. (Where's Uggie when you need him?) The question isn't whether the victim's close-knit group of friends will go on their annual vacation without him—that's what their near-comatose chum would want!—but how his absence will affect them. For Marie (Marion Cotillard), the loss of her occasional romantic partner is crushing. For Max (François Cluzet), who's just had an avowedly hetero buddy (Benoît Magimel) unexpectedly declare his love for him, the lack of a confidante has made him an anxious wreck. As for Éric (Gilles Lellouche) and Antoine (Laurent Lafitte), they simply miss having another immature guy to party with.
With its all-star ensemble cast and retro tunes, Guillaume Canet's melodrama has earned the snarky sobriquet "the Gallic Big Chill" on the festival circuit, but that's giving this mush way too much credit. Lawrence Kasdan's '80s look at '60s boomers trafficked in cultural nostalgia; Canet's film just pours on gallons of simple syrup. If these petit bourgeoisie have any charm, it's extraordinarily discreet as they whine, pine and winsomely pontificate on mortality to an iPod-on-shuffle soundtrack. (I have no idea what Creedence Clearwater Revival means to the French, but to hear the politically incendiary "Fortunate Son" playing unironically over scenes of beach frolicking is grounds for a pop-music fatwa.) When Canet isn't dabbling in schmaltz, he's forcing text-message gags and metaphor-heavy vermin jokes down viewers' throats in a lame attempt at levity. Emotional fraudulence does indeed constitute a lie, just not a white one.
Follow David Fear on Twitter: @davidlfear
Author: David Fear
Write your own review